Our guide on How to Become A Mechanical Engineer provides a comprehensive roadmap, offering valuable insights into the industry's intricacies.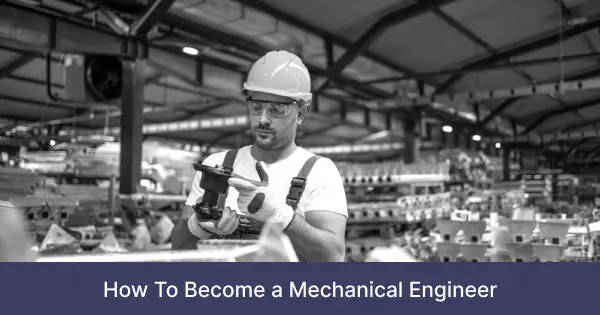 Mechanical engineering, the branch of engineering concerned with the design, manufacture, installation, and operation of engines and machines and with manufacturing processes. It is particularly concerned with forces and motion. Mechanical engineering deals with the prospects pertaining towards -installation of machinery, designing and updating older appliances, operating different mechanical systems through the application of thermodynamics, fluid mechanics, production technology, heat transfer, etc.
As Per BLS Mechanical engineers is projected to grow 10 percent from 2022 to 2032. The growth is much faster than the average growth of all occupations.
Eligibility Criteria
Must possess at least 50% aggregate from a recognized institution in 12th, from any board PUC/CBSE/ICSE/ISC, etc. However, the cut-off margin varies with the selection process of different colleges
Should procure a valid score in entrance exams such as JEE-MAINS/CET/VITEEE/JEE-Advanced, etc. Different colleges offer their own entrance exams if you don't have a satisfactory score in JEE or other competitive exams – colleges like NMIMS, Symbiosis International University, XUB, Andhra University, LPU, etc.
One must earn a degree in B.Sc/B.Tech or a Diploma to become a Mechanical Engineer. This is a basic qualification you must require to enroll in this line of work.
An M.Tech in Mechanical Engineering can also prove to be helpful while looking for a higher degree and better learning.
Learn - How To Become a Manufacturing Engineer
Tasks to perform
Calculation of prescribed range for different kinds of equipment for a predetermined goal or potential and provide data pertaining towards the approval of its functionality.
View the set of instructions offered to meet certain specifications, priorities and identify the type of problems faced.
Order a sketch on presenting intricate details related to the completion of draft or as a method to request for raw materials.
Analysis of different test results and objectives to design ways to improve on or change equipments to meet certain criteria.
Retain data on test runs and results acquired, to ensure recommended alterations of the product or testing procedures.
Knowledge required
Authority and Establishment - Understanding and interpreting methods the market and management concepts used in strategic planning, capital distribution, human capital modelling, technical leadership, manufacturing processes, and human and resource co - operation.
Development and Distribution - Learning the circulation of goods, production methods, quality management, prices and other strategies for optimizing the productive produce and delivery of products.
Apprehension of Physics – Predictive analytics of basic phenomena, laws, their interactions, and fluid, substance, and air mechanics interpretation techniques, and mechanical, electric, atomic and subatomic structures and processes understanding.
Computer Application - Understanding the prospects and functioning of circuit boards, processing units, circuits, electrical devices, computer equipment, plus applications and programming.
Science and Innovation- Creation of realistic and analytical development of science & technology. This involves the application of principles, methods, processes and machinery to the fabrication and manufacturing of different products and services.
Skills required to become a mechanical Engineer
Math skills - Mechanical engineers need to have strong math skills, including calculus, algebra, trigonometry, and statistics. They need to be able to apply mathematical concepts to solve engineering problems.
Analytical skills - Mechanical engineers must be able to analyze complex systems and use data to design, test, and improve mechanical devices. Strong problem-solving skills are essential.
Technical skills - Knowledge of engineering sciences like thermodynamics, mechanics, fluid mechanics, and energy is important. Mechanical engineers should be proficient in engineering tools and equipment.
Computer skills - Proficiency in CAD software, simulation software, and programming is required to design, model, and analyze mechanical systems. Knowledge of tools like MATLAB, LabVIEW, C++ is useful.
Communication skills - Mechanical engineers must collaborate with other engineers, technicians, and clients. Strong verbal and written communication skills are needed for reports, presentations, documentation.
Creativity - Mechanical engineering requires creativity and spatial thinking to design new products and devices. Visualization skills are important to imagine and bring designs to life.
Attention to detail - Mechanical devices and products have many complex components. Engineers need attention to detail to minimize errors and safety risks in design.
Lifelong learning - Technology is rapidly changing, so mechanical engineers must be committed to continuously upgrade their skills and keep learning new engineering methods and best practices.
Steps To Become a Mechanical Engineer
Earn a Bachelor's Degree in Mechanical Engineering

- Complete a 4-year bachelor's degree program in mechanical engineering at an accredited university. Mechanical engineering programs include courses in math, physics, materials science, thermodynamics, fluid mechanics, mechanics, design, and more.

Get Internship Experience (optional but recommended)

- Doing one or more internships as a student is highly recommended. This gives you hands-on engineering experience and helps you make connections in the field.

Take the Fundamentals of Engineering (FE) Exam

- Take the FE exam during your final year of college. Passing this exam is the first step to becoming a licensed professional engineer.

Find an Entry-Level Mechanical Engineering Job

- With your degree and FE exam passed, start applying for mechanical engineering jobs. Look for roles as a mechanical design engineer, manufacturing engineer, etc.

Get Licensed as a Professional Engineer (PE)

- After working for a few years under a licensed engineer, you can take the PE exam. This involves further testing on engineering principles and practices.

Continue Your Mechanical Engineering Education

- Take courses or seminars to keep your skills current. Getting a Master's degree or MBA can also advance your career.

Advance Your Mechanical Engineering Career

- With several years of hands-on experience, you may move into senior engineering roles or project management. Some engineers start their own consulting firms.
Career opportunities
Material Science Engineers can opt for various fields of work in the companies listed below:
General Electric
Syska
Avient Corporation
Dow
Kennametal Inc
Whitehall International
Novel Patent Services
Career Axes Engineering Services
Diageo
Amgen
Conclusion
To become a mechanical engineer, you first need to earn a bachelor's degree in mechanical engineering or a related field like aerospace engineering. A strong background in math and science courses like calculus, physics, and chemistry is essential.
With hard work and dedication, you can have a rewarding career that allows you to design, build, and improve mechanical devices that benefit society.
Choosing your career path can be challenging, Especially wen you dont know the right choice for you. Our psychometric Career test is designed to assess your strengths, interests, and aptitudes. By understanding your unique qualities, we can provide you with personalized Career Counselling And Guidance tailored to your aspirations.
ss