If you want to combat climate change through renewable energy, a career in wind power could be ideal. This guide outlines the path to become a wind energy engineer - the skills needed, education requirements, job duties, and steps to enter the field.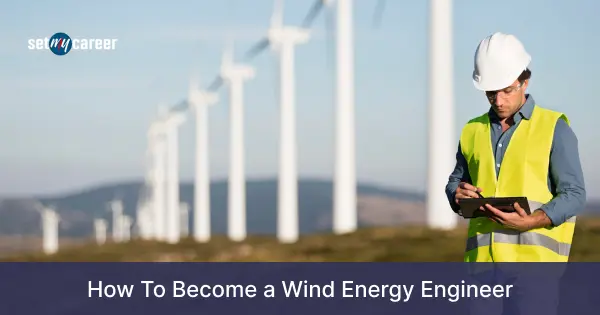 Wind energy engineers prepare, develop, analyze, and supervise the development of mechanical layout turbines, propellers, electronic equipment, and power generation systems. They research experimental concepts and analyze their aerodynamics. Wind energy engineers write papers and record the conclusions of their investigations. Wind energy engineers work on implementation sites They build farm models and blueprints.
Eligibility Criteria
Must possess at least 50% aggregate from a recognized institution in 12th, from any board PUC/CBSE/ICSE/ISC, etc. However, the cut-off margin varies with the selection process of different colleges.
Should procure a valid score in entrance exams such as JEE-MAINS/CET/VITEEE/JEE-Advanced, etc. Different colleges offer their own entrance exams if you don't have a satisfactory score in JEE or other competitive exams – colleges like NMIMS, Symbiosis International University, XUB, Andhra University, LPU, etc. Every state offers their own entrance exam as well.
One must earn a degree in B.Sc/B.Tech or a Diploma to become a Wind Energy Engineer. This is a basic qualification you must require to enroll in this line of work.
An M.Tech in Wind Energy Engineering can also prove to be helpful while looking for a higher degree and better learning.
Tasks to perform
Investigate the deployment of wind turbines or wind power subsystems to establish dependability, productivity, and adherence with precise requirements.
Screen wind energy building to guarantee conformity with legal regulations or ecological conditions.
Administers improvements to processes or facilities to increase wind energy efficiency, lower operating costs, or meet regulatory requirements.
Deliver engineering and technological assistance to experimental energy turbines builders.
Supervise the jobs of wind turbine specialists or suppliers.
Is This Career Right For You?
---
Are you feeling uncertain about your career path? Not sure which direction to take? Take the first step towards a fulfilling future
Skills required
Rational Analysis — Involves using intuition and analysis to evaluate the positives and disadvantages of different explanations, assumptions, or responses to problems.
Processes Assessment — Entails identifying metrics or indices of service quality as well as the steps required to enhance or change effectiveness in relation to the system's objectives.
Surveillance — Means keeping track of and reviewing your own, other people's, or organisations' results in order to make changes or take disciplinary measures.
Intensive Learning — Involves comprehending the consequences of emerging knowledge for both present and expected challenges, as well as strategies to overcome them.
Task Management — Solving entails recognizing specific challenges and evaluating relevant knowledge in order to create, analyse, and execute approaches.
Steps To Become a Wind Energy Engineer
Get a bachelor's degree in engineering, such as mechanical, electrical, or environmental engineering. Programs that offer classes and concentrations specifically in wind energy are ideal.
Consider obtaining a master's degree in wind energy engineering, sustainable energy, or a related field. This can help give you a competitive edge.
Gain hands-on experience through internships at wind farms, turbine manufacturing plants, green energy companies, etc.
Develop technical skills in areas like turbine technology, meteorology, structural design, testing, inspection, computer modeling, data analysis, and more through coursework and training programs.
Earn certifications offered by organizations like the American Wind Energy Association to demonstrate your expertise.
Build both hard and soft skills - critical thinking, communication, collaboration, project management, and strong analytical abilities.
Network with professionals in the wind industry by attending conferences and trade shows.
Apply for wind energy engineering jobs at renewable energy companies, turbine manufacturers, consulting firms, government agencies and more.
Stay up-to-date on trends and innovations in wind technology, equipment, and regulations. Continuous learning will keep your skills current.
Job roles offered
Once you procure the required qualifications for becoming a Wind Energy Engineer, a myriad of options is open to you. There are multiple projects you can undertake throughout this line of work, and there are many other fields you can branch out to as well.
GIS Specialist: Geographic Information Systems (GIS) expert provides most of this information in the form of maps of site properties such as ground zone borders, power lines, utilities, ecological vulnerable zones, landforms, wind energy, turbines, microsites, and terrain. These diagrams are used at any stage of the planning process, from power production to building. GIS provides the complexity needed to integrate several data layers.
Wind Turbine Designer: The method of determining the shape and parameters of a wind turbine to harvest power from the atmosphere is known as wind turbine design. These designers are mainly equipped for the assembly, which includes the appropriate equipment for capturing wind energy, pointing the turbines towards the wind, converting kinetic motion into electrical power, as well as other structures for starting, stopping, and controlling the turbine. A full wind power framework must include the construction of the hub, motors, engine, supportive frame, and base in response to the aerodynamics of the blades.
Field Test Engineer: The field test engineer can be found in a number of industries, including technology, mechanical, chemical, and electronic products, to name a few. The position and duties will differ depending on the sector in which he or she works. His/her primary duty, moreover, is to guarantee that the material is properly reviewed so that no problems arise when it is utilized. His/her responsibilities begin with development and implementation, preceded by examination.
Utility Engineers: Utilities engineers are qualified engineers that usually work with public infrastructure which provides cities with electricity, water, LPG, or drainage facilities. They frequently have mechanical or civil engineering experience. They seek to change the way these programmes are provided to households and workplaces, often participating in public works initiatives that bring innovative programs to residents while also hoping to enhance current programs with improved technologies and better practises.
Principal Engineer: A principal engineer is in charge of overseeing the underlying innovation program of the proposed development, which involves communicating with the customer for development and feedback, as well as making changes as required depending on the standards and conditions of the client. The equipment and services used are often reviewed by the primary technicians to determine whether the initiative remains within the target and schedule.
Career opportunities
a Wind Energy Engineer can opt for various fields of work in the companies listed below:
Schweitzer Engineering Laboratories
GE Wind Energy Ltd.
Schneider Electric
Indowind Energy Ltd.
Eaton
Orient Green Power Ltd.
ALSTOM
Open Systems International
NVIDIA
Microsoft
Google
Enercon India Pvt.
POWER Engineers
Constellation
Suzlon Energy Limited.
Colleges offering courses
Manipal Institute of Technology, Manipal
College of Engineering, Pune
SRM Institute of Science and Technology, Chennai
Dayananda Sagar College of Engineering, Bangalore
PSG College of Technology, Coimbatore
Indian Institute of Technology, Kharagpur
National Institute of Technology, Hamirpur
Amrita Vishwa Vidyapeethnam, Coimbatore
Indian Institute of Technology, Delhi
School of Energy Studies, University of Pune
Ready to take the next step towards your dream career? Let's get started! Take our Career Tests and schedule a personalized career Counselling career guidance for class 8 students Session With Our Expert