How To Become a Transportation Engineer
How To Become a Transportation Engineer
Published By Team Setmycareer on Sep 20, 2023
Transportation engineering is a growing, in-demand field that improves infrastructure and addresses transportation needs. This guide provides insight into the education and skills required, potential career paths, and how to be become a transportation engineers.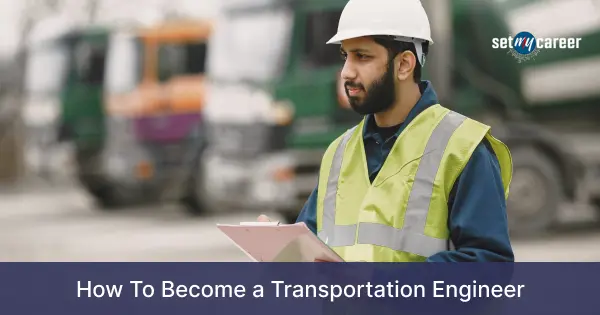 Motorways, highways, railroads, and bus lines are all built by transportation engineers. They operate with federal departments, consultancy services that help the government remediate problems, and commercial companies that make transportation products and components. Engineers also work as college professors and scholars. Any structural engineers are experts in certain fields.

Traffic engineers, for instance, design new highways or traffic flows, while railroad engineers design for high-speed rail operation. Tracks, subways, express trains, and buses are all built by some technicians.

Engineers are hired by municipalities, counties, and states to build new road networks or to identify alternate routes to ease traffic jams on existing highways. Engineers also design modern motorway pathways to be constructed in areas in which only residential streets exist. Other cities can consider if buses or trains are the better mode of transportation for passengers.
Eligibility Criteria
Must possess at least 50% aggregate from a recognized institution in 12th, from any board PUC/CBSE/ICSE/ISC, etc. However, the cut-off margin varies with the selection process of different colleges.
Should procure a valid score in entrance exams such as JEE-MAINS/CET/VITEEE/JEE-Advanced, etc. Different colleges offer their entrance exams if you don't have a satisfactory score in JEE or other competitive exams – colleges like NMIMS, Symbiosis International University, XUB, Andhra University, LPU, etc. Every state offers its entrance exam as well.
One must earn a degree in B.Sc/B.Tech or a Diploma to become a Transportation Engineer. This is a basic qualification you must require to enroll in this line of work.
An M.Tech in Transportation Engineering can also prove to be helpful while looking for a higher degree and better learning.
Skills required to become a Transportation Engineer
Math and physics skills - Strong grasp of mathematics, statistics, algebra, geometry, and physics principles to analyze transportation systems.
Engineering expertise - Knowledge of civil engineering disciplines like structural/geotechnical engineering to design transportation infrastructure.
Systems thinking - Ability to understand complex transportation networks and integration between various modes like air, road, rail, sea.
Analytical skills - Transportation engineers use data modeling, simulations, and software to analyze transportation solutions, traffic patterns, safety issues.
Communication - Collaborate with urban planners, government officials on transportation plans. Present reports clearly.
Technical skills - Proficiency in tools like AutoCAD, GIS software to create detailed transportation plans and asset maps.
Project management - Manage budgets, timelines, staffing plans, permits, contracts for large-scale transportation projects.
Sustainability - Design sustainable transportation options and infrastructure to reduce environmental impact.
Safety focused - Evaluate and recommend solutions to improve safety for all users of transportation systems.
Is This Career Right For You?
---
Are you feeling uncertain about your career path? Not sure which direction to take? Take the first step towards a fulfilling future
Steps To Become a Transportation Engineer
Earn a Bachelor's Degree in Civil Engineering

- Complete a 4-year bachelor's degree in civil engineering with courses in math, physics, statistics, mechanics, fluid dynamics, and transportation planning.

Complete an Internship

- Look for internships with state transportation departments or engineering firms to gain hands-on experience.

Obtain a Master's Degree (recommended)

- Most aspiring transportation engineers pursue a master's degree in transportation engineering, transportation planning, or civil engineering with a transportation focus.

Pass the Fundamentals of Engineering (FE) Exam

- Pass the FE exam to begin the process of becoming a licensed professional engineer.

Gain Initial Work Experience

- Look for entry-level roles or assistant transportation engineer jobs. Develop skills in traffic engineering, road design, transportation modeling, etc.

Earn a Professional Engineering (PE) License

- After several years of experience, take the PE exam to become a licensed transportation engineer.

Continue Your Transportation Engineering Education

- Take courses and seminars to stay up-to-date on the latest skills and engineering practices.

Advance Your Career

- With PE licensure and proven work experience, you can advance to senior transportation engineering roles and leadership positions.
Job roles offered
Once you procure the required qualifications for becoming a Transportation Engineer, a myriad of options is open to you. There are multiple projects you can undertake throughout this line of work, and there are many other fields you can branch out to as well.
Airport Engineers: Airport engineers are responsible for the planning, architecture, construction, renovation, and maintenance of airports. A bachelor's degree, professional experience, and licensing requirements are all expected for this position. Engineers will be eligible to complete continuing education programs in some states, and voluntary certification is possible.

Airport engineers conduct analysis, plan, and supervise terminal development, reconstruction, and repair. A bachelor's degree in architectural, electronic, or construction technology is typically required of aviation engineers.

Technical licensing requirements, which are expected, necessitates a requirement of education and practice. Some certifications can be obtained voluntarily. Survey surveys, maps, schematics, and other data are analyzed by airport engineers. They gather and measure soil properties to assess the organization's resilience, and they use statistical formulas to calculate different specifications, such as load, psychosocial stressors, and other building components. Engineers examine government guidelines to ensure that architecture adheres to implementing programs, state regulations, and other laws.

Highway Engineers: Highway engineers are structural engineers who design and assist in the construction of the millions of kilometers of highways that are constructed each year throughout the United States.

Highway engineering is divided into three branches: design, analysis, and development. The majority of highway technicians are experts in one of these fields. City and municipal planners collaborate with planning engineers. They are attempting to find solutions to alleviate congestion problems in congested cities. They study traffic trends to keep track of proposed development projects that could create traffic congestion in the future. Highway planners must also understand the environmental impact of new routes. Town, regional, and national government, as well as consultancy companies used by government departments, recruit these staff.

Highway architects can also work with highway agencies that oversee major cities' public transportation networks.

Traffic Engineer: Traffic engineers who specialize in the construction and operation of protected interstate highways are known as traffic engineers. They decide what types of highways are necessary to maintain seamless pedestrian traffic, but instead evaluate the most cost-effective ways to construct and sustain them.

Many scientists work with state or local authorities' transportation or road authorities, while others work with federal infrastructure agencies or regional transportation divisions. Engineers may operate in a variety of settings, including private consultancy companies, government establishments, and businesses. State traffic engineers are mostly associated with major highways or key state routes, which transport large amounts of traffic over vast distances.

Transportation Analysts: Data obtained by transportation consultants is used to guide project plans and preparation in the future. They also assess the efficacy and social implications of new initiatives. These practitioners typically work in construction managerial positions, so they must have previous knowledge and college education that prepares them for this function. Transportation analysts may work for a university, a financial enterprise, a consultancy firm, or the administration. Analysts use statistical modeling to analyze data and aid in the decision-making process for prospective initiatives in general.
Analysts in the transportation sector, for example, deal with data on traffic flow, accident rates, roadway maintenance, and air pollution, amongst many other things. Transportation analysts must possess exceptional organizational, technical, and programming abilities, as well as meticulous attention to detail. Often, a variation of a university diploma and professional experience is expected. It's also beneficial to have a foundation in mathematics or business management. Postsecondary certificates in fields like construction and structural engineering are available.
Planning Engineer: The most suitable economic models and engineering approaches for projects are decided and developed by planning engineers. They work in a wide range of areas, including structural engineering and architecture. Through an infrastructure project, planning engineers are often on hand to oversee all phases of construction and establish remedies.
Often planning engineers work full-time with a diverse group of coworkers, including the management team, assessors, and architects, to guarantee that a project is completed on time and with enough materials. Effective planning engineers are accustomed to operating in high-pressure situations. The most important objective of a planning engineer is to decide on custom fabrication strategies and achievement sequencing for each construction project. They set activity goals for each step of a project schedule to ensure that it satisfies the client's requirements. Using advanced construction program packages, prototype implementation estimates timeframes and prices.
Career opportunities
a Transportation Engineer can opt for various fields of work in the companies listed below:
Morrison Hershfield
Ola Electric Mobility Pvt. Ltd.
Walter P Moore
Deutsche Bahn
ABB
Atkins
Alstom
ADCC Infocad Limited
Alstom
Taurus Contractors
Colleges offering courses
Indian Institute Of Technology, Delhi
Indian Institute Of Technology, Chennai
Indian Institute Of Technology, Roorkee
Indian Institute Of Technology, Mumbai
Birla Institute Of Technology And Science, Pilani
Malviya National Institute Of Technology, Jaipur
College Of Engineering, Andhra University, Visakhapatnam
Sardar Vallabhbhai National Institute Of Technology, Surat
National Institute Of Technology, Kurukshetra
Lovely Professional University, Phagwara
This content has been made available for informational purposes only. Learners are advised to conduct additional research to ensure that courses and other College pursued meet their personal, professional, and financial goals. none of the companies, institutions or organisations mentioned in this article are associated with SetMyCareer.