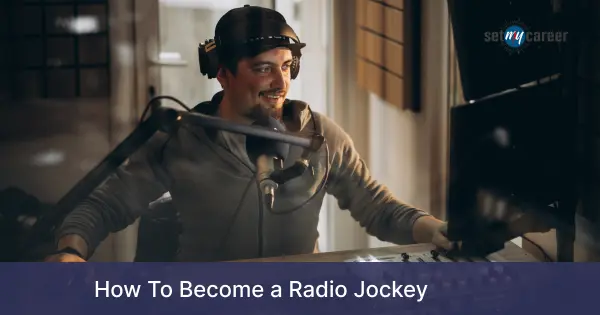 A Radio Jockey or a RJ is a person who hosts a talk show on radio just like how a video jockey works but without showing their face . He/she hosts the show, reads the script, plays the music and audio advertisement at specific intervals, raises topics of concern, designs subjects for discussion and interacts with callers and listeners via telephone, email, social media and SMSs.
Everything that he/she does should be appealing and entertaining. The RJ should be able to engage the audience with his/her voice and selection of words and how he/she presents the content before the audience does matter. Their job would include music programming, scripting, presenting radio shows, radio advertisements and lending voice to audio magazines and documentaries.
A radio announcer works in the broadcasting industry and might assume various roles, such as reporting live sporting events, hosting a talk show, or playing music over the airwaves. Some radio announcers, such as a news broadcaster, might follow a script, while others ad lib the content of a program. The main duty of radio announcers is to present clear, informative and entertaining information to their audience.
This often requires announcers to prepare for their broadcasts in advance in areas such as topic research, fact-checking and script or show outline preparation. Announcers and DJs may also have to compile song lists and prepare for personal interviews. Depending on the size of the radio station, announcers may have additional duties.
The nature of this job usually varies depending on the radio show's format and primary focus. News announcers read scripted summaries of the major news stories, sports announcers call the game's play-by-play and provide color commentary, and talk show hosts will frequently speak their mind without scripted material. Radio DJs typically need to have a playlist ready, as well as provide comments regarding songs and bands.
Work Environment
Radio presenters usually work for a specific radio station, which may be located either in the same location as their broadcasting facility, or somewhere completely different. Most radio stations are located in cities and major towns, although some may be located in smaller, regional areas. Because radio is a 24-hour phenomenon, some radio presenters may be required to work outside standard business hours. For example, they may present a breakfast program or a late-night program. However, many radio stations also pre-record programs that are broadcast late at night. Odd working hours as initially you might have to host shows at 4 am in the morning or at midnight. You Might feel lonely at times as you have to operate from a small sound-proof room with studio equipment as your companion.
Is This Career Right For You?
---
Are you feeling uncertain about your career path? Not sure which direction to take? Take the first step towards a fulfilling future
Entry Level Education
Certificate Course in Radio Jockeying (CRJ)
Diploma in Radio Production and Radio Jockeying (DRJ)
Diploma in Radio Programming and Broadcast Management (DRPM)
What matters the most in this career path is, your voice and Skill.