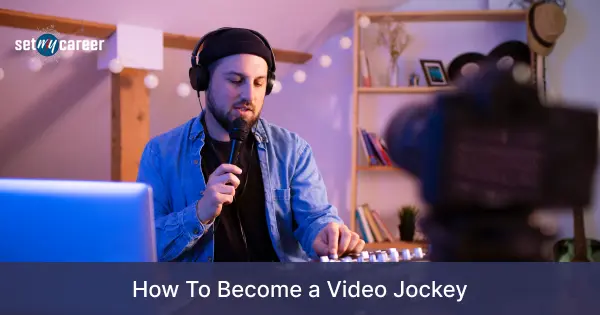 A Video Jockey (or VJ) is an announcer who introduces and plays videos on commercial music television stations. With the unprecedented growth in the music and television industry, career such as Video Jockey is emerging out to be some of the trending new age careers. This is a talent based field which requires skills to achieve perfection. VJ's today not only host music shows, but are also seen anchoring reality shows and hosting award functions. VJ's and RJ's (Radio Jockey) require high level of creativity and spontaneity while keeping their style and swagger intact. As music channels are increasing day by day on TV, the video jockey is becoming an interesting career option among youth. There is a number of working area where you can work as RJ/VJ/ RJ's is on Radio .

The duties of Video Jockey includes to present latest music and related information via radio or video, to Indulge in making important announcements or in anchoring various shows . They also organise the content through writing of the scripts. They tend to be talkative, lively, fluent, tactful and captivating to the audience. They also work in operating different software programmes and equipment's and work on feedback given by seniors and the audience. VJs must constantly keep up-to-date on the latest trends in music, all the latest videos and information about music stars and other celebrities.


In that sense, they take upon a more journalistic role. They also should have a well-rounded knowledge of all types of music and also should be informed about a bit of everything from films to politics to travel whatever the theme the show demands.
Work Environment
The VJ's working areas involves apart from introducing videos are hosting game to travel shows to youth forums, chatting with the public, doing interviews with artists and music celebrities etc. In short, they act as intermediary figures between the audience and the musicians or music videos. Sometimes, they must also be ready to work in a team and be prepared for different and changeable work timings. Some self-employed VJ's record their shows at home and sell them to networks and stations, advertising agencies, or other independent producers. It may also involve offcamera work like deciding on the theme and choosing the songs to suit the theme of the show, participating in promotional like attending theme parties and with experience, even writing script for the show at times. VJ's interact with the viewers through telephone, e-mail or fax.
Entry Level Education
Bachelors in Journalism/Mass Communication /Visual Communication/BA Hons.(English/Mass Communication).
Diploma or Certification in Radio/Video Jockeying / Anchoring Training/Radio Management.
Is This Career Right For You?
---
Are you feeling uncertain about your career path? Not sure which direction to take? Take the first step towards a fulfilling future