This guide will help you understand the steps and skills needed to become a veterinarian. It outlines the extensive education, licensing requirements, and experience needed to succeed in this animal healthcare career.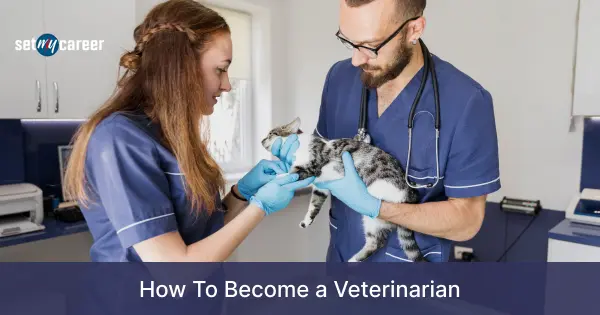 Veterinarians are specialized doctor who care for the health of animals and work to improve public health. They diagnose, treat, and research medical conditions and diseases of pets, livestock, and other animals. They Examine animals to diagnose their health problems diagnose and treat animals for medical conditions. They treat and dress wounds. Veterinarian performs surgery on animals. They advise owners about animal feeding, behavior and breeding. When health problems arise, veterinarians diagnose the problem and treat the animal.

Accurate diagnosis frequently requires laboratory tests, radiography, and specialized equipment.
Treatments may involve a number of different procedures including emergency lifesaving techniques, prescribing medication, setting fractures, birthing, performing surgery, or advising an owner on feeding and care of the animal.

To prevent the introduction of foreign diseases, veterinarians employed by government agencies quarantine and inspect animals brought into the country from other countries. A veterinarian in research looks for better ways to prevent and solve animal and human health problems. There are many veterinarians that are professors, teaching at schools and universities of veterinary medicine. In addition to teaching, veterinary school faculty members conduct basic and clinical research, contribute to scientific publications, and develop continuing education programs to help graduate veterinarians acquire new knowledge and skills.
Educational Requirement
To become a licensed vet, you must earn a Doctor of Veterinary Medicine (DVM or VMD) degree from an accredited veterinary college. This graduate level program typically takes 4 years to complete following a 4-year undergraduate degree.
Some of the undergraduate coursework required for vet school includes:
Biology
Chemistry
Biology
It's also recommended to get hands-on animal experience by working or volunteering in places like animal shelters, farms, zoos, or veterinary clinics. Clinical experience strengthens your application to vet school.
Skills Needed
Communication Skills: You'll need to listen attentively, explain medical issues, educate clients, and discuss sensitive topics with empathy. Strong written skills are also important for record keeping.
Compassion: Genuinely caring for the health and wellbeing of all creatures, even when facing difficult situations.
Problem-solving skills: Identify and treat a wide range of illnesses across species. Think critically to diagnose complex or unusual cases.
Physical Stamina: The job often involves bending, lifting, and being on your feet for extended periods. You may need to restrain large or difficult animals.
Attention to Detail: Precisely follow treatment plans, catch subtle symptoms, ensure proper dosage amounts.
Leadership: Manage a team of vet techs and guide clients to make the best decisions for their animals.
Work Environment
Small animal veterinarians typically work in veterinary clinics or veterinary hospitals, or both. Large animal veterinarians often spend more time traveling to see their patients at the primary facilities which house them (zoos, farms, etc.). As opposed to a human doctor's office, which only has exam rooms, a veterinarian's office is more like a hospital with a full pharmacy. Waiting rooms are available often with separate areas for dogs, cats, and exotics. Veterinarians' work can sometimes be emotionally stressful, as they deal with sick animals and the animals' anxious owners. Also, the workplace can be noisy, as animals make noise when sick or being handled. Working on farms and ranches, in slaughterhouses, or with wildlife can also be physically demanding.
Entry Level Education
Bachelor Degree in Veterinary Science & Animal Husbandry (B.V.Sc. & AH).
Is This Career Right For You?
---
Are you feeling uncertain about your career path? Not sure which direction to take? Take the first step towards a fulfilling future
Conclusion
With persistence and proper preparation, you can achieve your dream of becoming a licensed veterinarian and improving the lives of animals. It's a challenging yet extremely fulfilling career path for animal lovers. Use these tips to get started and succeed on this rewarding journey of veterinary medicine.