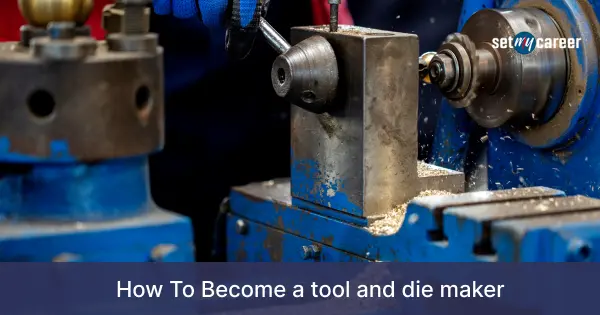 A Tool and Die Maker is someone who sets up and operates a variety of computer-controlled or mechanicallycontrolled machine tools to produce precision metal parts, instruments, and tools. Toolmakers craft precision tools and tool holders that are used to cut, shape, and form metal and other materials.

They also produce jigs and fixtures—devices that hold metal while it is bored, stamped, or drilled—and gauges and other measuring devices. Die makers construct metal forms, called dies, that are used to shape metal in stamping and forging operations.

They also make metal molds for die-casting and for molding plastics, ceramics, and composite materials. Many Tool and Die Makers use CAD's to develop products and parts. Specifications entered into computer programs can be used to electronically develop blueprints for the required tools and dies.

Computer numeric control programmers use CAD and CAM programs to convert electronic drawings into CAM-based computer programs that contain instructions for a sequence of cutting tool operations.

Once these programs are developed, CNC machines follow the set of instructions contained in the program to produce the part.

Machinists normally operate CNC machines, but tool and die makers are often trained to both operate CNC machines and write CNC programs, and they may do either task. The duties of Tool and Die Maker includes to study blueprints, sketches, specifications, or computer-aided design (CAD) or computer-aided manufacturing (CAM) files for making tools and dies.


They compute and verify dimensions, sizes, shapes, and tolerances of workpieces and set up, operate, and tear down conventional, manual, or computer numerically controlled (CNC) machine tools.
They need to file, grind, and adjust parts so that they fit together properly, test completed tools or dies to ensure that they meet specifications. They also inspect for proper dimensions and defects for smooth and polish surfaces of tools and dies.
Work Environment
The vast majority of tool and die makers work in manufacturing. They work in machine shops and tool rooms and on factory floors, where work areas are well lit and ventilated. Although the work generally is not dangerous, For example, workers must wear protective equipment, such as safety glasses to shield against bits of flying metal and earplugs to dampen the noise produced by machinery. Most tool and die makers work full time during regular business hours. However, overtime is common. Because many manufacturers run the machinery for long hours, evening and weekend work is also common.
Is This Career Right For You?
---
Are you feeling uncertain about your career path? Not sure which direction to take? Take the first step towards a fulfilling future