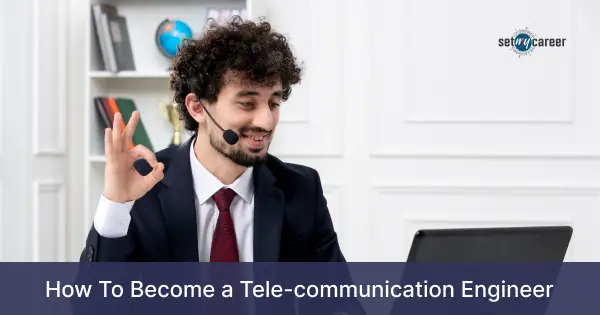 Telecommunications Engineer is a person who design, test and build the various technologies that allow people to communicate over distances. They may work in fields such as telephone and internet networks, radio and television broadcasting and satellite communications. Telecommunications engineers usually work for the major telecommunications companies, or for large organisations with private communication networks, such as remote mine sites in the Pilbara region. They design telecommunication networks, deciding on the technology to be used and where cables or broadcasting equipment needs to be placed, and oversee installation. These workers may also be responsible for testing and repairing faults. Telecommunications Engineers design and install equipment used for transmitting wired phone, cellular, cable and broadband data.

Their day-to-day responsibilities can include working with copper or fiber optic cabling, complex networks and switching systems. Telecommunications engineers may be employed by wired and wireless telecommunications companies, engineering consulting firms or government agencies. Telecommunications Engineers are analytical, creative and methodical problem solvers with excellent concentration and math skills. As members of manufacturing teams, they are also collaborative professionals and good speakers with interpersonal intelligence and the ability to work well with others. Responsibilities of telecommunication engineer include handling all kind of telecommunicating devices and using them in proper manner. They need to visit sites when needed to solve problems regarding communicating devices.


They are also tending to inspect and service telecommunication devices in frequent interval of time. Engineers will also have to design and create devices for telecommunication systems and cooperate with the team members. Skills requirements for telecommunication engineers are Experience in networking field is preferred, must possess good problem solving ability. They need to gain knowledge in software that deals with telecommunication systems. They should also possess knowledge in C-language programming and should have all basic electrical and electronic knowledge.
Work Environment
Telecommunications Engineers often work in offices, where they can use computers to monitor networks and broadcasting equipment remotely. However, sometimes travel may be required to visit sites throughout the state, particularly when installing new equipment or repairing faults. They typically work regular business hours, although evening and weekend work is often required to meet tight deadlines. Some telecommunications engineers may also be required to be on call in case of emergencies requiring them to locate and repair faults after hours. They usually work as part of a team, often supervising a number of technicians and installers.
Entry Level Education
Bachelor's Degree in Electrical or Electronics Engineering.
Is This Career Right For You?
---
Are you feeling uncertain about your career path? Not sure which direction to take? Take the first step towards a fulfilling future