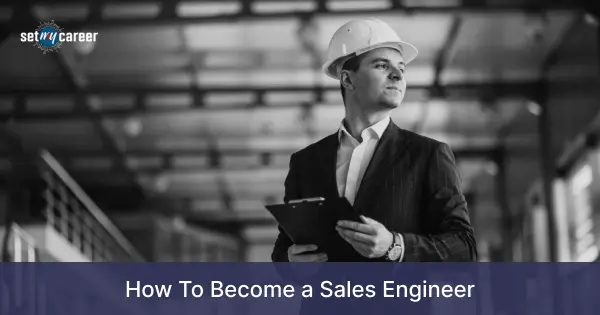 Sales engineering is a hybrid of sales and engineering that exists in industrial and commercial markets. Buying decisions in these markets are made differently than those in many consumer contexts, being based more on technical information and rational analysis and less on style, fashion, or impulse. Therefore, selling in these markets cannot depend on consumer-type sales methods alone, and instead it relies heavily on technical information and problem-solving to convince buyers that they should spend money on the seller's products or services, in order to meet a business need (that is, to satisfy a business case). A sales engineer is thus both "a salesperson that understands and can apply engineering" and "an engineer that understands how to sell engineered systems".

They thus not only sell but also provide advice and support. They provide this service to various internal or external customers, and they may work for a manufacturer (servicing its industrial-account/business-to-business customers), for a distributor (which in turn services the industrial-account/business-to-business customers), or for a third party such as an engineering consultancy or a systems integrator. Sales Engineers are a critical sales team member in many companies and industries around the world.


They are more than just technical experts in their respective industries. Highly successful sales engineers must build and maintain parallel expertise in "soJ skill" disciplines such as business acumen, presentation skills, building customer relationships, developing an engagement strategy, and having a thorough understanding of the targeted industry. Many companies have difficulty finding people who possess these qualities, plus have extensive technical knowledge. The essence of the sales engineering role can be called by various names. Which name is most apt can even depend on which industry it is used in. Some common job titles that involve the essence of sales engineering include Sales Engineer, Solutionons Engineer, Systems Engineer, Customer Engineer, (pre-sales) consultant, Technical Account Manager; Applications Engineer or Field Applications Engineer, and others.
Work Environment
Sales engineers often work under stressful conditions because their income and job security depend on commission from successfully completing sales. Some sales engineers may work additional and irregular hours to meet sales goals and client needs.
Entry Level Education
Sales engineers typically need a bachelor's degree in engineering or a related field. Successful sales engineers combine technical knowledge of the products or services they are selling with strong interpersonal skills.
Knowledge required
Media and Marketing — Familiarity with media creation, engagement, and distribution strategies and methodologies is required for communication systems and multimedia. Printed, auditory and electronic media are all examples of various ways to inform and amuse.
English Grammar — Familiarity in English Grammar, the form, and substance of the English language, along with the context and pronunciation of words, principles of grammar, and language.
Advertising and Distribution — Entails understanding the values and strategies for displaying, advertising, and distributing goods or services. Marketing strategies and strategies, merchandise presentation, distribution procedures, and sales management processes are all part of this.
Computer Application — Understanding the prospects and functioning of circuit boards, processing units, circuits, electrical devices, computer equipment, plus applications and programming.
Development and Refinement — Comprehension of natural resources, manufacturing methods, quality management, prices, and other approaches for optimizing the efficient manufacture and delivery of products.
Is This Career Right For You?
---
Are you feeling uncertain about your career path? Not sure which direction to take? Take the first step towards a fulfilling future
Skills required
Rational interpretation — Use of rationality and inference to distinguish the positives and disadvantages of creative improvements, assumptions, or responses to situations.
Influence — Inspiring and persuading people to change their behavior and support a certain product, brand, or organization to increase sales.
Method of Learning — Practises and processes for selecting and implementing strength and conditioning approaches and techniques that are suitable for the case when learning or introducing new items.
Processes Assessment — Entails identifying metrics or indices of service quality as well as the steps required to enhance or change effectiveness concerning the system's objectives.
Critical Analysis — Learning and identifying the strengths and weaknesses along with providing solutions and countermeasures to reduce the impact of potential problems.
Career opportunities
Architects can opt for various fields of work in the companies listed below:
Zoho
Verloop.io
Nobroker.com
Moksha
Voxpro Communications
Nest
Embibe
Global InfoCloud
Freelancer
EduGorilla
Colleges offering courses
Savitribai Phule Pune University, Pune
Indian Institute of Journalism and New Media, Bangalore
Ajk Mass Communication Research Centre, New Delhi
Indian Institute of Mass Communication, New Delhi
Asian College of Journalism, Chennai
Prestige Institute of Management and Research, Indore
Xavier Institute of Communications, Mumbai
Parul University, Vadodara
Manipal Academy of Higher Education, Manipal
Chandigarh University, Chandigarh