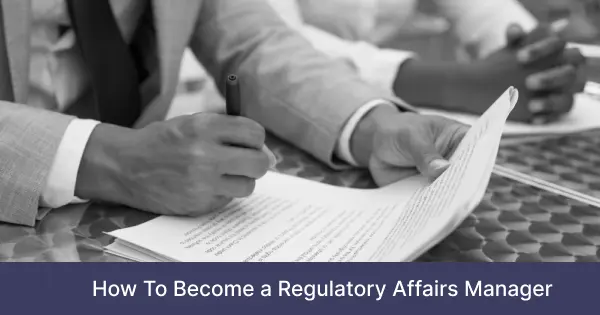 The Regulatory Affairs Manager is tasked with reviewing internal policies that usually relating to the manufacture, testing, marketing, and reliability of products to ensure that they are safe to use and work as intended. The regulatory affairs manager must keep abreast of legislative developments in the countries or regions in which a company distributes its products or services. Using this knowledge, the regulatory affairs manager examines all aspects of production, from discovery to distribution, to ensure compliance with regulatory statutes. Depending on the size and scope of the business, the regulatory affairs manager may need to maintain a complete understanding of many different regulatory processes of state, national, and/or international bodies.
The Regulatory Affairs Manager helps control a large part of their company's reputation with legislators and the public, which means they must maintain excellent records and create methods that quickly address potential violations. The regulatory affairs manager oversees all teams involved in production, marketing, and distribution to verify that all are operating according to regulations. They will also advise and strategize with upper management, keeping them informed of regulatory developments and advising them on methods to execute contingency methods as needed.

The duties of Regulatory Affairs Manager is to oversee preparation, data, testing procedures, and compliance aspects of proposals and reports. They also investigate and report adverse events, compliance violations and similar problems and work directly with departments and project personnel to ensure compliance and inform of updates to regulations.

To ensure that projects and proposals meet all relevant guidelines, standards, and regulatory rules, conducting research where needed.
Work Environment
Working hours can include regular extra hours to meet tight deadlines, but not weekends or shifts. There are also some opportunities for part-time work.
Step-by-Step Guide to Starting Your Career as a Regulatory Affairs Manager
As a regulatory affairs manager, you would be responsible for overseeing and coordinating regulatory processes for areas like clinical research, quality assurance, and product approvals. This career offers the chance to use your analytical abilities and attention to detail to help companies achieve compliance, facilitate innovation, and get products to market.
Step 1: Earn a Bachelor's Degree
A bachelor's degree is the typical entry-level education for regulatory affairs. Common majors include sciences like biology, chemistry, or biochemistry, but degrees in areas like business or engineering can also prepare you well. Coursework in regulatory law, quality systems, and statistics is advantageous. Internships, volunteer work, or jobs related to compliance, quality, or regulatory functions can also help give you foundational knowledge and experience.
Step 2: Consider Earning a Master's Degree (Optional)
While not always required, a master's degree can improve job prospects and earning potential as a regulatory affairs manager. Relevant graduate programs include regulatory affairs, quality assurance, biotechnology, business administration, and law or health care compliance. A master's degree can provide deeper knowledge related to regulations and processes for various industries. Programs with an internship component also offer valuable hands-on experience.
Step 3: Get Certified in Regulatory Affairs
Gaining certification in regulatory affairs demonstrates your knowledge and proficiency. Several respected certification options are available:
Regulatory Affairs Certification (RAC) from the Regulatory Affairs Professionals Society (RAPS)
Certified Professional in Regulatory Affairs (CPRA) from the Alliance of Advanced Regulatory Science Professionals
Certified Regulatory Affairs Specialist (CRAS) from the Academy of Clinical Research Professionals
These certifications require passing an exam covering areas like regulations, quality systems, interactions with regulatory agencies, and product approval pathways. Many regulatory affairs managers maintain these certifications through ongoing education.
Step 4: Build Your Professional Experience
Look for entry-level regulatory affairs roles, like regulatory affairs specialist or coordinator, to gain direct experience. Rotational programs at pharmaceutical and medical device companies also provide exposure to regulatory functions. With 2-5 years of experience, you can progress to a regulatory affairs officer or associate position before advancing to manager.
While working, focus on:
Learning applicable regulations and standards in depth
Developing regulatory documentation and submissions
Preparing and participating in agency meetings and audits
Tracking and reporting on regulatory commitments and processes
Collaborating with cross-functional teams including R&D, quality, legal, and marketing
This hands-on experience builds essential knowledge and skills for the manager role.
Step 5: Advance to Regulatory Affairs Manager
With 5+ years of regulatory experience, you can obtain a managerial role. As a regulatory affairs manager, typical responsibilities include:
Developing regulatory strategies for products and portfolios
Leading preparation and submission of regulatory applications
Overseeing responses to regulatory agencies and inspection readiness
Assessing impact of changing regulations and guidances
Managing a team of regulatory professionals
Reporting on regulatory progress and risk management to senior leadership
Collaborating with other departments to provide regulatory input
People management, communication, collaboration, and leadership skills now become critical. Continuing education and involvement in professional associations ensure you stay current as regulations evolve.
Key Skills and Qualities for Regulatory Managers
To succeed as a regulatory affairs manager, build expertise in:
Regulations and Standards - Expert knowledge of laws, regulations, standards, and guidance documents applicable to your industry. This includes understanding the regulatory approval process and requirements for areas like clinical research, manufacturing, marketing, and post-approval vigilance.
Communication - Ability to communicate technical regulatory information clearly and tactfully with varied internal and external stakeholders through written documents, presentations, and negotiations.
Project Management - Skills to develop regulatory submission plans, manage timelines, estimate costs and resources, track progress, and lead cross-functional preparation of regulatory applications.
Leadership - Lead, motivate, and develop a team of regulatory professionals. Collaborate across departments to integrate regulatory considerations.
Problem-Solving - Identify and mitigate regulatory risks. Troubleshoot issues and develop solutions to regulatory challenges as they arise.
Attention to Detail - Ensure accuracy and compliance in regulatory applications and documentation. Keep updated on nuances and changes to complex regulations.
Is This Career Right For You?
---
Are you feeling uncertain about your career path? Not sure which direction to take? Take the first step towards a fulfilling future
Entry Level Education
Bachelor's Degree B.Sc - Any Specialization, B.Pharma – Pharmacy.
Master's Degree in MS/M.Sc(Science) - Any Specialization, M.Pharma – Pharmacy.
Conclusion
With commitment to continuous learning and development, a career as a regulatory affairs manager can be highly rewarding and meaningful. Take the first step by equipping yourself with regulatory knowledge and experience today.