This guide will help you understand the steps and skills needed to become a Photonics Engineer. It outlines the extensive education, licensing requirements, and experience needed to succeed in this Engineering Career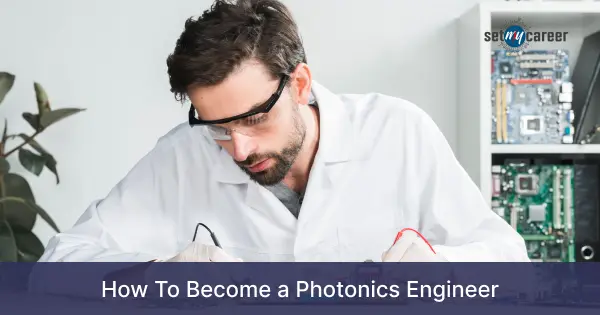 Key Takeaways
| Aspect | Career Highlights |
| --- | --- |
| Education | Bachelor's degree in Photonics, Physics, or Engineering. Master's or Ph.D. for advanced roles. |
| Salary | Competitive salaries, with entry-level positions typically starting around $60,000 to $80,000 per year, and experienced engineers earning six-figure salaries. |
| Basic Skills | Expertise in optics, lasers, and light-based technologies. Strong knowledge of semiconductor physics, materials science, and mathematical modeling. Proficiency in design software and simulation tools. Problem-solving and analytical skills. |
| Work Environment | Work in research and development laboratories, manufacturing facilities, or academia. Collaborate with multidisciplinary teams. Opportunities in industries like telecommunications, healthcare, and aerospace. Job may involve both office work and hands-on experimentation. |
The primary goal of photonics engineer employment is to create modern and creative materials for healthcare, telecoms, production, and landscaping. Through the light that can split plastics to ultra-precise lasers utilized in sensitive corrective eye surgery, photonics researchers have made important technological advancements.

Photonics researchers spend their working time engaged in science and technologies that will transform the image of the planet as it is now, from designing innovative and groundbreaking photonics technologies to carrying out research and studies.
Eligibility Criteria
Must possess at least 50% aggregate from a recognized institution in 12th, from any board PUC/CBSE/ICSE/ISC, etc. However, the cut-off margin varies with the selection process of different colleges.
Should procure a valid score in entrance exams such as JEE-MAINS/CET/VITEEE/JEE-Advanced, etc. Different colleges offer their own entrance exams if you don't have a satisfactory score in JEE or other competitive exams – colleges like NMIMS, Symbiosis International University, XUB, Andhra University, LPU, etc. Every state offers their own entrance exam as well.
One must earn a degree in B.Sc/B.Tech or a Diploma to become a Photonics Engineer. This is a basic qualification you must require to enroll in this line of work.
An M.Tech in Photonics Engineering can also prove to be helpful while looking for a higher degree and better learning.
Tasks to perform
Studying the latest research, chatting with peers, continuing education, or participating in technical associations or conventions are both ways to stay up to date on trends in the area.
Construct visual or photographic devices such as optical imaging devices, optics materials image processing, signal processing technology, or optoelectronic devices.
Perform research to assess the performance or configuration of optoelectronics specifications and requirements, as well as to define their constraints.
Construct equipment to harness solar energy and other energy-generating structures or equipment.
Evaluate whether electro-optical programs or instruments have commercial, automotive, research, or certain applications.
Knowledge required
Apprehension of Physics –Comprehending liquid, substance, and environmental mechanics, as well as structural, electronic, nuclear, and molecular systems and processes, involves knowledge and forecasting of basic phenomena, rules, and their interconnections.
Working Mechanism — Understands the functioning of devices and equipment, including their structures, implementations, restoration, and upkeep.
Engineering and Design — Acknowledging the required materials, techniques, and equipment used in the development or renovation of homes, vehicles, and other infrastructures such as streets and highways.
Ready to take the next step in your career journey? Our expert career counselors are here to help you navigate your path to success. Contact us today for personalized Career Guidance and start building the future you've always dreamed of
Skills required
Surveillance – Keeping track of and reviewing your own, other people's, or organizations' results to make changes or take disciplinary measures.
Study Practices — Determining and applying strength and conditioning approaches and processes that are suitable for the circumstance when studying or introducing unfamiliar concepts.
Devices assessment — Defining metrics or indices of system efficiency as well as the steps taken to enhance or modify effectiveness concerning the platform's objectives.
Rational Analysis — Involves using intuition and analysis to evaluate the positives and disadvantages of different explanations, assumptions, or responses to problems.
Effective Attention — Paying close attention to what others are doing, spending the time to evaluate the arguments being raised, responding to questions as required, and refraining from disrupting at inconvenient times.
Steps to Become a Photonics Engineer
Earn a Bachelor's Degree in Physics, Optics, Electrical Engineering, or a related field. Photonics engineering builds on a strong background in physics and optics, so an undergraduate degree in one of these fields is essential. Some colleges offer specialized degrees in optics or photonics.
Take relevant coursework. Make sure to take classes such as optics, lasers, quantum mechanics, semiconductor physics, electromagnetic theory, and electronics. Hands-on lab experience is also important.
Consider a Master's degree. Many photonics engineers pursue a Master's degree in photonics, optical engineering, electrical engineering, physics, or a related field. This provides further specialized training in the field.
Gain research experience. Try to get experience through undergraduate research projects, internships at photonics companies, or by working in a university/industry research lab. This will provide critical real-world experience.
Develop programming and data analysis skills. Learn to program in languages like Python, MATLAB, C++, etc. Data analysis and visualization with tools like MATLAB are also useful skills.
Focus on a sub-field. Photonics is a broad field, so try to gain specialized expertise in areas like fiber optics, semiconductor lasers, LED technology, holography, quantum optics, photovoltaics, etc.
Consider a PhD for advanced research positions. A PhD is required for many photonics research jobs and faculty positions at universities. A PhD involves deep research experience.
Get licensed/certified. Voluntary licensing through SPIE can demonstrate professional expertise in photonics. Professional engineer (PE) licensure may also be required.
Keep up with latest advancements. Lifelong learning is crucial to stay current with the latest photonics technologies and breakthroughs. Join industry organizations, attend conferences, and network.
Search for jobs at photonics, optics, electronics and telecom companies. There are many industry opportunities in fields like fiber optics, sensors, photovoltaics, aerospace, medical devices, etc.
Job roles offered
Once you procure the required qualifications for becoming a Photonics Engineer, a myriad of options are open to you. There are multiple projects you can undertake throughout this line of work, and there are many other fields you can branch out to as well.
Laser Engineer A Laser Engineer is a specialist who operates together under the direction of a boss who is accountable for producing efficient practical utilization lasers in compliance with the needs of the company in which he or she functions. The laser engineer's commitments primarily include capturing, surveilling, and optimizing the effectiveness of lasers, configuring any important laser concerns, and establishing and implementing a program to aid in inventory management.
Optical Fabrication Technician: The optical fabrication technician simply creates optics for better vision and positions them into frameworks that are often customized to match each person. They should also be able to interpret and comprehend design plans and templates, as well as control machines to manufacture the recommended lenses. Optical fabrication specialists, also known as lenses and prism manufacturers, normally work in a laboratory or production situation. The job is full-time and takes place throughout standard working hours It includes the use of optical machines generally used for grinding, drilling, and polishing.
Optoelectronics Engineer: The Optoelectronics Section of Engineers supports ESA programs with practical assistance and conducts technical advancement (R&D) in the area of optoelectronic system technology and programs. The Optoelectronics Segment, in particular, is concerned with the configuration, creation, and quantification of photovoltaic applications, subcomponents, and effective photonic equipment such as UV to FIR waveform receivers and lasers, fiber-optic transmitters, lidars, electrical telecommunication networks, and molecular innovations.
Career opportunities
Photonics Engineers can opt for various fields of work in the companies listed below:
Intel Corporation
Faststream Technologies
University of Hyderabad
SFO Technologies
Keysight Technologies
MEL Systems and Services Ltd.
Lucius Photonics Global
Everything RF
SFO Technologies
Trifacta
Sintec Optronics
Colleges offering courses
Indian Institute of Technology, Chennai
Indian Institute of Technology, Delhi
Defense of Institute of Advanced Technology, Pune
Integral University, Lucknow
Shri Govindram Seksaria Institute of Technology and Science, Indore
Cochin University of Science and Technology, International School of Photonics Thrikkakara, Kochi
University of Calcutta, Kolkata
Anna University, ChennaiAmity University, Lucknow
Sri Sathya Sai Institute of Higher Learning, Anantapur
Kerala University, Thiruvananthapuram
Is This Career Right For You?
---
Are you feeling uncertain about your career path? Not sure which direction to take? Take the first step towards a fulfilling future
Conclusion
becoming a Photonics Engineer is an exciting and rewarding journey that offers limitless opportunities to explore the fascinating world of light and its applications in various fields. This guide has provided you with a comprehensive overview of the steps required to embark on this career path.