a comprehensive roadmap for individuals aspiring to enter the dynamic world of Mechatronics Engineer. By following this guide, readers can gain a clear understanding of what it takes to become a successful Mechatronics Engineer and embark on a fulfilling career journey.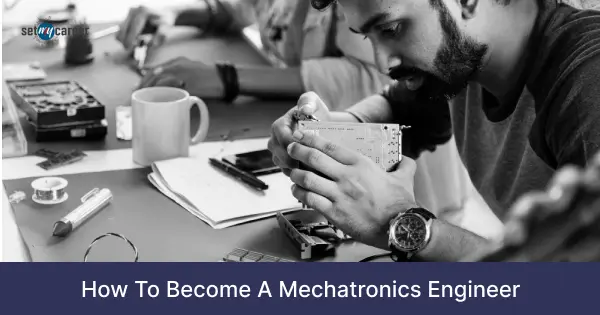 Mechanical engineers with hardware, modulation, and real-time software development expertise are referred to as Mechatronics engineers.
Career Highlights of a Mechatronics Engineer
| | |
| --- | --- |
| Role | Designing, developing, and maintaining complex mechatronic systems that combine mechanical, electronic, and computer engineering. |
| Expertise | Integration of mechanical and electrical systems, robotics, automation, and control systems. |
| Responsibilities | Creating and testing prototypes, troubleshooting systems, and optimizing performance. |
| Importance | Contributes to the advancement of technology, automation, and efficiency in various industries. |
| Skills | Strong problem-solving skills, knowledge of engineering principles, and proficiency in programming and control systems. |
| Career Prospects | Highly sought-after profession with opportunities in manufacturing, robotics, aerospace, and more. |
| Advancements | Constantly evolving field with new technologies and applications, offering room for innovation and growth. |
Mechatronics engineers are important assets in a wide range of technical fields because they have long expertise in incorporating circuits, detectors, and hydraulics into systems. Mechatronics engineers are involved in every stage of manufacturing processes, from modeling to research to production. Almost no substance on the planet is entirely physical, electromagnetic, or hydraulic.
Modern mechanical devices are integrated with electronic equipment and commands due to the increasing versatility of the technology. As a result, the boundaries amongst each specialization are blurring, and there is a rising need for mechatronics engineers with good expertise in each of these fields.
Mechatronics engineers design devices with many components, including the mechanical structure, signaling and transmission, control mechanisms, and applications. A robotic system is a good example of a mechatronics machine since it uses circuitry, engineering, and computers to perform its daily tasks.
Is This Career Right For You?
---
Are you feeling uncertain about your career path? Not sure which direction to take? Take the first step towards a fulfilling future
Eligibility Criteria
Must possess at least 50% aggregate from a recognized institution in 12th, from any board PUC/CBSE/ICSE/ISC, etc. However, the cut-off margin varies with the selection process of different colleges.
Should procure a valid score in entrance exams such as JEE-MAINS/CET/VITEEE/JEE-Advanced, etc. Different colleges offer their entrance exams if you don't have a satisfactory score in JEE or other competitive exams – colleges like NMIMS, Symbiosis International University, XUB, Andhra University, LPU, etc. Every state offers its entrance exam as well.
One must earn a degree in B.Sc/B.Tech or a Diploma to become a Mechatronics Engineer. This is a basic qualification you must require to enroll in this line of work.
An M.E/M.Tech in Mechatronics Engineering can also prove to be helpful while looking for a higher degree and better learning.
Tasks to perform
To increase output performance, regulate or adjust automation processes, manufacturing systems, or processor architectures.
For trajectory tracking, location detection, tension detecting, and digital communication, study, pick or install sensing devices, communication technologies, or controls.
Design digital, electrical, or computerized structures to conduct activities in hazardous environments, such as marine excavation or interstellar mining.
Develop self-tracking mechanical systems, such as gear systems, that can predict and limit the damage by observing the processing or state of the device.
Create or model automatic electronic systems for biotechnological processes such as waste management, air pollution, or wastewater treatment facilities.
Knowledge required
Apprehension of Physics — Predictive analytics of basic phenomena, laws, their interactions, and fluid, substance, and air mechanics interpretation techniques, and mechanical, electric, atomic, and subatomic structures and processes understanding.
Arithmetic Prowess — Being able to evaluate and interpret various mathematical equations and use them to address complex problems in arithmetic, geometry, calculus, and other areas.
Computer Application — Understanding the prospects and functioning of circuit boards, processing units, circuits, electrical devices, computer equipment, plus applications and programming.
English Grammar — Familiarity in English Grammar, the form, and substance of the English language, along with the context and pronunciation of words, principles of grammar, and language.
Development and Manufacturing — Utilizing natural resources, process innovations, quality management, prices, and other strategies for optimizing the productive produce and delivery of products.
How to Become a Mechatronics Engineer
Education: Obtain a bachelor's degree in Mechatronics Engineering or a related field.
Skill Development: Develop skills in mechanical, electrical, and software engineering.
Hands-On Experience: Gain practical experience through internships or projects.
Stay Updated: Stay current with industry trends and emerging technologies.
Networking: Build a professional network in the engineering field.
Consider Advanced Degrees: Pursue master's or doctoral degrees for advanced roles.
Certifications (Optional): Consider relevant certifications to enhance your credentials.
Job roles offered
Application Engineers: Application Engineers utilize feedback from customers and sales knowledge to plan or re-design, create, analyze, and execute complicated software services and networks, acting as a link among consumers and domain experts. They also offer technical assistance and experience to clients, which includes evaluating software, listening to customer reviews, installing and maintaining equipment, and giving marketing materials and demos.

A Technology Engineer is responsible for a variety of activities to provide consumers with quality mobile applications. To define these key roles and obligations, we looked at work postings for Application Engineers. Modeling, constructing, and deploying systems and software are the responsibilities of Application Engineers. They must be able to conduct consumer research to develop software that adapts to customer requirements but provides unique approaches to typical challenges. Development process, program testing, and code evaluations are also performed to ensure that the software is acceptable.

Automation Engineer: While automation has long been a staple of the automotive industry, it is still comparatively new to the industry, medicare, and financial sectors.

IT automation is usually based on increased automation and QA testing of digital systems beyond production and industrial automation. An automation engineer's aim in specific software products, as well as company or customer support processes, is to remove bugs, mistakes, and difficulties.

Businesses are rapidly using computerized web applications to help address consumer problems or lead consumers to the appropriate user, and automation engineers assist in the implementation of this technology.

Automation can also be used to improve IT aid desk booking, customer administration, and the delivery of high-quality goods and applications with fewer errors. An automation engineer's overarching aim is to minimize worker workload while still increasing performance and flexibility by automating repetitive or unreliable traditional procedures.

Development Engineers: Development Engineers are in charge of developing, constructing, and evaluating new technologies for businesses. They operate throughout every field possible, developing a wide range of goods.

One Development Engineer might specialize in robotic equipment, although some might specialize in biomedical equipment. Product Development Engineers is another name for them. The majority of Development Engineers have electrical engineering or biotechnology experience.

Development Engineers typically work as part of a team to design products or be employed to produce gadgets or goods on their own.

Even though they do most of the function on their own, they must communicate to a group leader, project coordinator, or administrator who has the ultimate authority as to whether or not a commodity is made.

A Development Engineer's responsibilities differ based on the type of service they are employed to manufacture, but there are a few key responsibilities that are shared by all Development Engineers. The following specific roles and duties were discovered during a study of existing work postings.

Manufacturing Process Engineer: Manufacturing process engineers use research and organizational strategy to significantly boost production techniques. They seek to eradicate obsolete production processes to boost productivity and lower expenses. This is a professional job that necessitates extensive prior practice and a thorough understanding of the construction process.

Manufacturing process engineers function in industrial applications and are often required to operate on the factory floor and find issues in the general production processes. They generally work complete daytime shifts and answer to production managers personally.

One of a manufacturing process engineer's main duties is to examine existing production practices and requirements for deficiencies. They also invest a bit of time on the factory floor reviewing worker and system processes to determine whether the operation can be optimized to reduce costs and increase efficiency.

Principal Engineers: Principal engineers are regarded as experts in their fields. They usually directly report to their corporation's senior leadership and have considerable technical experience obtained by working as an engineer. Their work necessitates leadership and organizational skills. They must therefore be inventive to continue to develop their projects and any challenges that could emerge.

Contingent on their engineering specialization, they can work for companies or workshops, and some of their responsibilities may enable them to move to construction sites.

Principal engineers are used to working long hours. Many different tasks are performed by principal engineers. They are in charge of duties such as personnel recruitment, budgeting, and work assignment. They also establish design goals and work on several tasks simultaneously.
Career opportunities
Daimler
Mahindra & Mahindra Ltd.
BorgWarner
Visteon Corporation
Trane Technologies
Philips
Hasbro
Bosch Group
Mercedes-Benz Research and Development India Private Limited
Altair Engineering
Colleges offering courses
Vels Institute Of Science, Technology & Advanced Studies, Chennai
Netaji Subhas Institute Of Technology, New Delhi
College of Engineering, Pune
National Institute Of Technology, Rourkela
Er. Perumal Manimekalai College Of Engineering, Dharmapuri
Acharya Institutes, Bangalore
Manipal Institute Of Technology, Manipal
SRM Institute Of Science & Technology, Chennai
Lovely Professional University, Phagwara
Bharath Institute Of Higher Education And Research, Chennai
Conclusion
The path to becoming a Mechatronics Engineer is a multifaceted journey that fuses mechanical, electronic, and computer engineering disciplines. This guide has shed light on the essential steps, including educational foundations, skill acquisition, hands-on experience, and a commitment to innovation.