How to Become A Marketing Manager
How to Become A Marketing Manager
Published By Team Setmycareer on Sep 23, 2023
Our guide on How to Become A Marketing Manager provides a comprehensive roadmap, offering valuable insights into the industry's intricacies.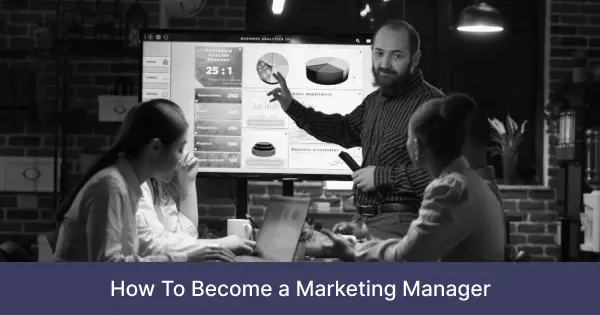 Marketing managers are critical in assisting a company in promoting and selling its goods to consumers. Marketing managers can direct and affect how a product appears and sounds in the marketplace, and their responsibilities can span the full breadth of how an organization interacts. Learn how to excel as a brand strategist and what it takes to advance your profession in this rapidly developing industry from experienced professionals. Marketing encompasses a wide range of responsibilities within an organization, from demand and supply merchandising to data analysis and strategic planning for the corporation's future growth. Marketing strategy is a very important job and brand management can have a significant impact on any aspect of an organization and how it works. The marketing department's primary purpose is to identify innovative ways to generate sales and consumers that are consistent with the fast-paced speed of technology, as well as to optimize and modernize existing business strategies.
Eligibility Criteria
Any degree is viable, but opting for B.Com/BBA or a diploma in marketing will provide a better overview and understanding of the market than you do from other courses.
Tasks to perform
Acting with advertising or promotional executives, create, lead, or organize marketing practices or strategies to sell goods or services.
Depending on awareness of the leadership's goals, industry dynamics, and expense and packaging considerations, recognize, construct, or review a marketing program.
Knowledge required
English Grammar — Familiarity in English Grammar, the form, and substance of the English language, along with the context and pronunciation of words, principles of grammar, and language.
Advertising and Distribution — Entails understanding the values and strategies for displaying, advertising, and distributing goods or services. Marketing strategies and strategies, merchandise presentation, distribution procedures, and sales management processes are all part of this.
Colleges offering courses
Indian Institute of Management, Bangalore
Indian Institute of Management, Kolkata
Chandigarh University, Chandigarh
Indian Institute of Management, Indore
Manipal Academy of Higher Education, Manipal
Vinod Gupta School of Management, Kharagpur
Shailesh J. Mehta School of Management, IIT Bombay, Mumbai
Department of Management Studies, Indian Institute of Technology, Roorkee
Indian School of Business, Hyderabad
Department of Management Studies, IIT Madras, Chennai
Sp Jain Institute of Management and Research, Mumbai
Conclusion
Choosing your career path can be challenging, Our psychometric test is designed to assess your strengths, interests, and aptitudes. By understanding your unique qualities, we can provide you with personalized career Counselling tailored to your aspirations.