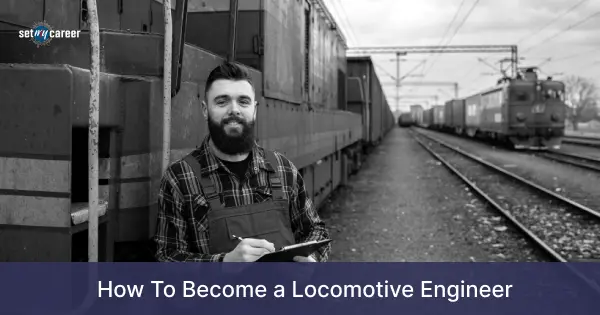 Locomotive Engineers, also known as train engineers, are responsible for driving trains safely from one destination to another. They ensure that freight trains and passenger trains stay on time and travel safely.
Some locomotive engineers drive trains between stations, while others move trains around in a rail yard. They provides the forward motion, speed and steering control for the entire train. Locomotives are typically associated with freight trains that operate across older non-electric, non-magnetic rail lines. The engineer essentially drives the train from the locomotive, helping ensure that controls for speed and braking are properly applied and that the train is properly switched from track to track as necessary. Because trains operate on tracks, the engineer's steering is typically related to speed control and awareness of how the train's weight and mass affect its momentum.
Throughout freight trips, the engineer monitors the locomotive's performance and engine through gauges and readouts, watching for potential problems such as overheating or underperformance. Most train routes have suggested safe speed maximums and/or minimums, and it is the engineer's job to ensure that the train is within those limits. The engineer also makes sure their train operates within a set schedule and monitors fuel use. They maintain contact with controllers at stations along their route to ensure the train is properly switched from track to track as necessary. Additionally, the locomotive engineer regularly performs internal and external inspections of the locomotive and the train in general to make sure that wheels, couplings and truck suspensions are sound and in good working order. Engineers must be aware of the goods their train is carrying because different types of freight require different types of driving, based on the conditions of the rails.
For example, a train carrying hazardous material though a snowstorm is driven differently than a train carrying coal though a mountain region. The duties of Locomotive Engineers includes to work with conductors and groundsmen via radio to communicate information concerning schedules, stops, delays, or oncoming trains. They also observe tracks to detect obstructions or inoperable railroad switches and operate the train according to all railroad rules and regulations. They also perform necessary minor repairs in order to keep the train running on time.
Take Career Test and Career Counselling and Guidance to Know Your perfect Matching career Based your Interest and Personality
Work Environment
Most engineers work long shifts, typically traveling between destinations. A typical schedule has them working many days consecutively followed by multiple days off. Individuals can find locomotive engineer positions with governmentrun railroad agencies or with private railroad businesses. Many locomotive engineers are required to work weekends, nights and holidays.

Entry Level Education

Aleast matriculation with ITI course in specified trades.
18 - 30 YR. for the general candidates.
Apply for the competitive exam held for the job whenever declared by any of the 17 RRB'S of different zones in Indian Railway.
After clearing the exam the required training is been given.
Is This Career Right For You?
---
Are you feeling uncertain about your career path? Not sure which direction to take? Take the first step towards a fulfilling future
Entry Level Education
Bachelor Degree in Library Science.