Discover How To Become a Forensic Science Technician, This Guide Provides valuable insights into the educational path, essential skills, and job duties required for this profession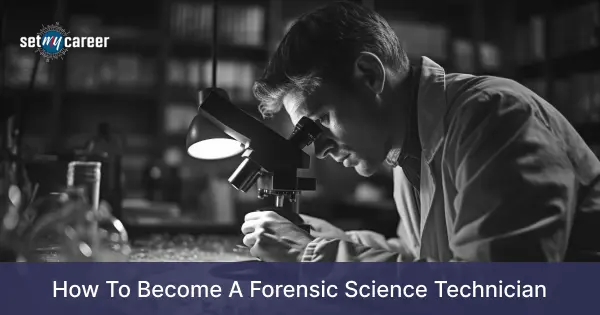 Key Highlights of a Forensic Science Technician
| | |
| --- | --- |
| Role | Collection, analysis, and preservation of physical evidence in criminal investigations. |
| Expertise | Proficiency in biology, chemistry, and other scientific disciplines. |
| Responsibilities | Examine evidence, create detailed reports, testify in court, maintain lab equipment. |
| Importance | Crucial in identifying suspects, exonerating the innocent, and ensuring justice. |
| Skills | Meticulous attention to detail, scientific precision, impartiality. |
| Career Prospects | Challenging yet rewarding career with opportunities for growth. |
| Advancements | Ongoing evolution with technological and methodological advancements. |
Forensic science technicians may be specialists who do a variety of tasks or specialists who specialize in specific procedures and disciplines. Criminalists and crime scene inspectors are generalist forensic science professionals who gather samples at criminal investigations and conduct analytical and technological research in labs or offices.
Forensic science technicians who operate mainly in labs may have a material science or engineering background. When examining evidence, these professionals, such as professional biologists and investigative scientists, usually use substances and lab instruments such as microscopes.
Who Is A Forensic Science Technician
A forensic science technician, often simply referred to as a forensic technician or forensic scientist, is a professional who works within the field of forensic science. Their primary role is to collect, analyze, and interpret physical evidence from crime scenes to assist in criminal investigations and legal proceedings.
Eligibility Criteria
Must possess at least 50% aggregate from a recognized institution in 12th, from any board PUC/CBSE/ICSE/ISC, etc, with subjects of chemistry, physics and biology. However, the cut-off margin varies with the selection process of different colleges.
Should procure a valid score in entrance exams such as JEE-Main, KIITEE, SRMJEE, CEE, HITSEE, GATE, etc. Different colleges offer their own entrance exams if you don't have a satisfactory score in JEE or other competitive exams – colleges like NMIMS, Symbiosis International University, XUB, Andhra University, LPU, etc. Every state offers their own entrance exam as well.
One must earn a degree in B.Sc/B.Tech or a Diploma to become a Forensic Science Technician. This is a basic qualification you must require to enroll in this line of work.
An M.Tech in Forensic Science can also prove to be helpful while looking for a higher degree and better learning.
Tasks to perform
Investigate fingerprint images proof with chemical compounds or other ingredients, and match established impressions to documented people in records.
Discuss proof and its analysis with muzzle velocity, biometrics, signatures, notes, digital, clinical, biochemical, or metallurgy professionals.
To recognize and distinguish materials, products, or other data obtained at criminal investigations, evaluate analytical observations, or examine reports.
To gather documentation or facts for use in trials, go to crematoriums, visit murder cases, or consult certain sources.
Keep comprehensive notes and write papers that outline the observations, investigation processes, and experimental procedures.
Knowledge required
Arithmetic Prowess — Being able to evaluate and interpret various mathematical equations and use them to address complex problems in arithmetic, geometry, calculus, and other areas.
Chemical Dexterity — Able to understand the chemical structure and composition of substances available in the environment. Includes the understanding of changes, interactions between different substances, methods of production, and safe disposal of toxic substances.
Apprehension of Physics – Predictive analytics of basic phenomena, laws, their interactions, and fluid, substance, and air mechanics interpretation techniques, and mechanical, electric, atomic, and subatomic structures and processes understanding
Biological Knowledge — Awareness and a brief understanding of the working principles behind different genera and species of animals and plants, their interaction with the environment, relationship with the ecosystem, etc.
Computer Application — Understanding the prospects and functioning of circuit boards, processing units, circuits, electrical devices, computer equipment, plus applications and programming.
Is This Career Right For You?
---
Are you feeling uncertain about your career path? Not sure which direction to take? Take the first step towards a fulfilling future
Skills required
Training Methodology — When practicing or introducing new items, selecting and implementing teaching processes and techniques that are suitable for the case.
Platform Assessment — Process of evaluating how a program can function and how adjustments in requirements procedures, and the ecosystem will impact the result.
Selective Attentiveness – Focusing on key tasks that require utmost priority over some time without being liable to interruptions or distractions.
Surveillance — Means keeping track of and reviewing your own, other people's, or organizations' results to make changes or take disciplinary measures.
Time Management — Interacting and switching between different tasks and activities without consuming excess time to provide results.
Steps to Become a Forensic Science Technician
Educational Qualifications:

Obtain a Bachelor's degree in a relevant field. Most forensic science technicians have degrees in forensic science, chemistry, biology, or a related discipline. Ensure that the program you choose is recognized by a reputable institution.

Choose a Specialization (Optional):

Forensic science covers various specializations such as forensic chemistry, forensic biology, digital forensics, and more. Decide on your area of interest and tailor your coursework accordingly.

Gain Practical Skills:

Participate in laboratory courses and practical training sessions to develop hands-on skills. Practical experience is crucial in this field.

Pursue a Master's Degree (Optional):

Some positions in forensic science may require or prefer candidates with a Master's degree. Consider pursuing an M.Sc. or M.Tech. in forensic science or a related field if you want to specialize further or enhance your qualifications.

Internships and Work Experience:

Seek internships or part-time jobs in forensic laboratories or related fields during your undergraduate or postgraduate studies. This practical experience will help you build a strong resume.

Stay Updated:

Forensic science is a constantly evolving field. Attend workshops, conferences, and seminars to stay updated with the latest techniques and technologies.

Certification:

Consider obtaining certifications from relevant professional organizations, such as the All India Institute of Medical Sciences (AIIMS) or the Directorate of Forensic Science Services (DFSS), to enhance your credibility and job prospects.

Apply for Jobs:

Start applying for forensic science technician positions in government or private laboratories, law enforcement agencies, or forensic consulting firms. Keep an eye on job openings in your area of interest.

Prepare for Interviews:

Practice interview techniques and be ready to demonstrate your knowledge and skills during interviews. Highlight your relevant coursework, practical experience, and certifications.

Background Check and Security Clearance:

Some positions in forensic science may require a background check and security clearance due to the sensitive nature of the work. Ensure that you meet all the necessary requirements.

Continuous Professional Development:

Once you're employed as a forensic science technician, continue your professional development by taking additional courses and certifications. This will help you advance in your career.

Network:

Build a network within the forensic science community. Networking can help you discover job opportunities and stay informed about industry trends.

Maintain Ethical Standards:

Forensic science technicians must adhere to high ethical standards and maintain the integrity of evidence. Always conduct your work with honesty and professionalism.
Job roles offered
Once you procure the required qualifications for becoming a Forensic Science Technician, a myriad of options are open to you. There are multiple projects you can undertake throughout this line of work, and there are many other fields you can branch out to as well.
Ballistic Expert: A forensic scientist who collects and analyses ballistic trajectories data, such as weapons and cartridges, is known as a ballistics expert. When it comes to weapons and bullets, ballistics is a physics-based discipline, as ballistics experts are designated to evaluate anything from trajectory to likely angular displacement.

At the murder scene and in a research lab, a ballistics specialist can examine round cartridges, shrapnel, magazines, and weapons.

Ballistics experts are known to be involved in ballistics profiling while testing bullets recovered at a scene of a crime, which includes examining the markings remaining on weapons to ascertain the weapon has been used to shoot the ammunition.

Criminologist: A criminologist's main task is to investigate all facets of crime and come up with solutions to deter violent behavior and mitigate criminality. Criminologists compile data to look for trends. They try to assess different forms of crimes as well as backgrounds and geographic areas. A criminologist's work is almost all research-based, and they may do their investigation in a controlled laboratory environment or the field.

Criminals can be interviewed by criminologists to get a better understanding of their mentality and motives for breaking laws. They may also collaborate with police departments, city groups, and policymakers to create strategies that can help deter violence and ensure that accused and sentenced perpetrators are handled equally and responsibly.

Evidence Technicians: Evidence technicians, commonly recognized as forensic analysis technicians, help crime investigators capture, store, and analyze scientific proof gathered during a crime inquiry. The role of evidence technicians, as well as several forensic investigators, has been more common to the wider populace after criminal research programs became a mainstream television program genre in the 2000s. However, this position is distinguished from that of a criminal investigations inspector, who is usually a commissioned law enforcement officer. To maintain the accuracy of the data and the processes of processing, evidence technicians should exercise strict diligence. They assist in preventing testimony from being tossed away by a court due to poor compilation or restoration work
Fingerprint Analyst: In the course of a criminal inquiry, a fingerprint analyst examines, records, and stores biometrics also including handprints and footprints. Fingerprint recognition is also a common career path in forensics, which is the study of how science can be applied to legal and constitutional law. The term "fingerprint specialist" refers to someone who works as a forensics technician. A fingerprint examiner is commonly recognized as a forensic image specialist or a fingerprint images specialist.

Fingerprint analysts are usually federal contractors who capture, archive, and interpret fingerprint information found at a crime scene by organizations such as police departments. If a lawsuit involving identification is brought to trial, fingerprint analysts can be called in to offer professional courtroom evidence.

Trace Evidence Specialist: A trace evidence specialist, also known as a trace evidence investigator, is a forensic investigator who evaluates residual traces left behind by suspects and victims of severe crimes. Using different analytical orchestration and strategies, trace evidence research involves identifying and comparing these transmitted samples. Chemical and optical examinations of structural trace material retrieved from a crime scene are performed by forensic document researchers using cutting-edge frameworks and equipment.

Such forensics experts provide Credentials of Examination based on certain observations, and they can be summoned to appear as professional investigators in criminal court cases about the evidence evaluation and the assumptions reached as a consequence of the examination.
Career opportunities
Forensic Science Technicians can opt for various fields of work in the companies listed below:
State of Georgia, Goa
Central Forensic Science Laboratory, Pune
Bombay Forensics
Directorate of Forensic Science Services (Ministry of Home Affairs, Government of India)
Lok Nayak Jayaprakash Narayan National Institute of Criminology & Forensic Science
Intelligence Bureau, (Ministry of Home Affairs, Government of India)
Central Bureau of Investigation (CBI)
Mantis HR Consulting
GYANPRO EDUCATIONAL INNOVATION
Crime Investigation Department (CID)
Colleges offering courses
Banaras Hindu University, Varanasi
Chandigarh University, Chandigarh
Amity University, Noida
LPU - Lovely Professional University, Jalandhar
Parul University, Vadodara
Karunya Institute of Technology and Sciences
All India Institute of Medical Sciences, Delhi
St. John's Medical College, Bangalore
Manipal Academy of Higher Education, Manipal
Adikavi Nannaya University, Andhra Pradesh
Allahabad State University, Uttar Pradesh
Conclusion
Forensic science technicians work behind the scenes, often in laboratories or at crime scenes, where they apply their knowledge of biology, chemistry, and other scientific disciplines to uncover the truth. Their work can help identify suspects, exonerate the innocent, and provide closure to victims and their families.