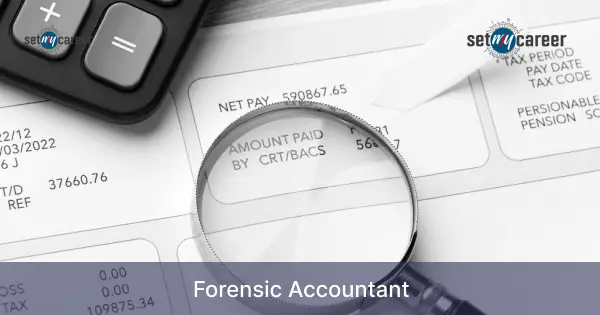 So you want to be a forensic scientist? This exciting career combines science, investigation, and justice to help solve crimes. As a forensic scientist, you'll collect and analyze physical evidence from crime scenes to uncover clues that can identify suspects, causes of death, and other critical details.
Becoming a forensic scientist takes dedication and hard work, but it's an incredibly rewarding career for those who have an analytical mindset and passion for investigation.
Forensic Accounting utilizes accounting, auditing and investigative skills to conduct an examination into a company's financial statements. Thus, forensic accounting provides an accounting analysis suitable for court. Forensic accountants are trained to look beyond the numbers and deal with the business reality of a situation. They are frequently used in fraud cases. Forensic Accountants combine their accounting knowledge with investigative skills in various litigation support and investigative accounting settings.
Career Highlights of a Forensic Accountant
| | |
| --- | --- |
| Role | Investigating financial discrepancies, fraud, and embezzlement for legal purposes. |
| Expertise | Strong accounting skills, financial analysis, audit, and forensic techniques. |
| Responsibilities | Examining financial records, conducting interviews, preparing reports, and providing expert testimony. |
| Importance | Helps uncover financial wrongdoing, supports legal cases, and protects against financial crimes. |
| Skills | Analytical thinking, attention to detail, ethical conduct, and a deep understanding of financial regulations. |
| Career Prospects | Lucrative and in-demand career with opportunities in various industries including law enforcement, accounting firms, and corporations. |
| Advancements | Ongoing need for forensic accountants due to the evolving nature of financial crimes. |
Learn about Becoming an accountant and Career Counselling and Guidance to Know Your perfect Matching career Based your Interest and Personality
Forensic Accountants are employed by public accounting firms' forensic accounting divisions; by consulting firms specializing in risk consulting and forensic accounting services; or by lawyers, law enforcement agencies, insurance companies, government organizations or financial institutions. Due to heightened awareness and growing intolerance of fraudulent activity, demand for Forensic Accountants is rapidly increasing.
The CFE credential provides Forensic Accountants with the technical knowledge necessary to perform effective investigations.
In contrast to auditors, who typically take a more consistent and standardized approach to their work, Forensic Accountants must determine which areas, people or functions of the organization require their attention. Because fraud is usually hidden, this process can be difficult and time consuming.
The CFE credential ensures Forensic Accountants have advanced knowledge of typical fraud schemes and data analysis techniques so that they can perform investigations efficiently and strategically. Most Forensic Accounting positions require at least one to three years of accounting experience. Many Forensic Accountants obtain this experience by working as a general accountant.
Some responsibilities unique to forensic accountants includes to performs forensic research to trace funds and identify assets for recovery, conducts forensic analysis of financial data. They also prepares forensic accounting reports from financial findings and Prepares analytical data for litigation and testifies as needed.
Work Environment
They may work with businesses, nonprofit organizations (including government and law-enforcement agencies), estates, individuals and others who require forensic-accounting services. Forensic accountants work in a variety of environments. They spend most of their time in an office in front of a computer observing financial information they have obtained regarding a criminal case. They also work with criminal investigators, police officers, forensic scientists and other agents involved in a criminal case to help piece information together and determine what information needs to be found.
Is This Career Right For You?
---
Are you feeling uncertain about your career path? Not sure which direction to take? Take the first step towards a fulfilling future
Entry Level Education
Bachelor's / Master's Degree in Commerce.
Many companies encourage obtaining the Certified Fraud Examiner (CFE), Certified Public Accountant (CPA), and/or Chartered Accountant (CA).