provides valuable insights into the step-by-step journey of entering the competitive fashion industry. It offers guidance on education, skill development, and networking, making it essential for aspiring designers to navigate their path successfully and pursue their fashion dreams.
Fashion designers have a unique presence in our society. Their creativity and imagination influence how people look, as well as the culture and societal climate. They enjoy researching fashion patterns, sketching sketches, selecting fabrics, and being involved in all facets of their designs' creation. They help to produce millions, if not billions, of items of apparel and footwear that are bought by customers per year. Branding and advertisements are used by fashion designers to advertise themselves. Many fashion designers promote their wares across fashion magazines as well as their own retail shops.
Eligibility Criteria
Must possess at least 50% aggregate from a recognized institution in 12th, from any board PUC/CBSE/ICSE/ISC, etc. However, the cut-off margin varies with the selection process of different colleges.
A Bachelor's degree in Fashion Design/ Fashion Merchandising/ Visual Arts can prove to be advantageous, but it offers a comprehensive overview of all facets involved in Art History, rather than an emphasis on Fashion design or development.
Should procure a valid score in entrance exams such as NIFT/NID/DAT/CEED/AIEED/UCEED/SOFT, etc. Different colleges offer their own entrance exams if you don't have a satisfactory score in AIEED or other competitive exams – colleges like NMIMS, Symbiosis International University, XUB, Andhra University, LPU, etc. Every state offers their own entrance exam as well.
One must acquire a degree/diploma or certification in a recognized establishment to become a Fashion Designer. This is a basic qualification you must require to enroll in this line of work.
An M.F. Tech in Fashion Design can also prove to be helpful while looking for a higher degree and extensive learning.
Tasks to perform
Organise runway shows and read clothing articles and guides to learn regarding clothing styles and customer tastes.
Write manuscripts and meet with executives and other professional consultants to formulate design plans and schedule projects.
Distribute prototype clothing to distributors and marketing executives, and prepare for preview clothing to be seen at company events or film festivals.
Employees engaging in designing and removing shapes, as well as assembling prototypes or completed fabrics, are guided and coordinated.
Procure fresh or utilized apparel and accessories as required to complete design concepts.
Steps to Become a Fashion Designer
Educational Foundation:

High School Preparation: Develop a strong foundation in art, design, and mathematics.
Bachelor's Degree: Pursue a degree in fashion design or a related field from a reputable institution.

Develop Your Skills:

Sketching and Illustration: Practice fashion sketching and illustration for visual communication.(if you know Graphic Designing It will Be Helpfull)
Sewing and Pattern Making: Learn garment construction and pattern creation.
Fabric Knowledge: Gain expertise in various fabrics and their properties.
Computer-Aided Design (CAD): Familiarize yourself with design software and CAD programs.

Build a Portfolio:

Create a strong portfolio showcasing your design projects and sketches.

Internships and Entry-Level Positions:

Look for internships or entry-level positions to gain industry experience and build your network.

Networking:

Attend industry events and gatherings to network with professionals in the field.

Specialization (Optional):

Consider specializing in a specific area of fashion design, such as haute couture or sustainable fashion.

Continuing Education (Optional):

Explore advanced courses or a master's degree in fashion design for further refinement.

Launch Your Career:

Decide whether to start your own fashion label or work for an established fashion house.
Develop business and marketing skills if starting your brand.
Knowledge required
Advertising and Distribution – Entails understanding the values and strategies for displaying, advertising, and distributing goods or services. Marketing strategies and strategies, merchandise presentation, distribution procedures, and sales management processes are all part of this.
Administration and Conduct — Knowledge of the market and management concepts used in strategic planning, capital distribution, human resource modelling, technical leadership, manufacturing processes, personnel and asset implementation.
Client and Legitimate Service — Implementation of standards and procedures for the provision of customer and services rendered. This involves identifying customer expectations, meeting product quality requirements and assessing customer loyalty.
Creativity — Generating new concepts, prototypes, and plans for fashion design and creation. Developing modern fashion wear for various events and customer requests.
Design and Establishment — Recognition of the materials, techniques, and instruments used in building or restoring homes, factories, as well as other structures, such as roads, highways, bridges, etc.
Skills required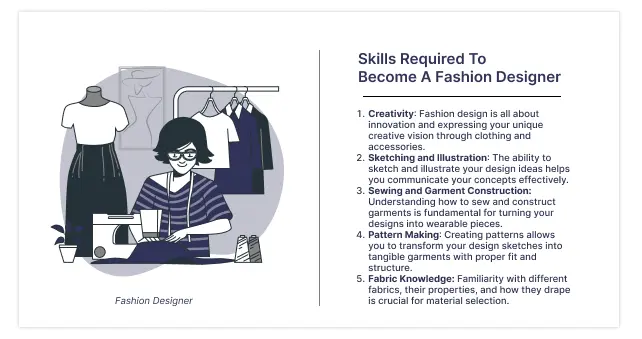 Rational interpretation – Use of rationality and inference to distinguish the positives and disadvantages of creative improvements, assumptions, or responses to situations.
Influence — Inspiring and persuading people to change their behaviour and support a certain product, brand, or organisation to increase sales.
Method of Learning — Practises and processes for selecting and implementing strength and conditioning approaches and techniques that are suitable for the case when learning or introducing new items.
Surveillance — Entails keeping track of and evaluating your own, other people's, or organisations' results in order to make changes or take disciplinary measures.
Strategic Thinking — Evaluating the possible expenses and advantages of various decisions in order to recognise the best one.
Is This Career Right For You?
---
Are you feeling uncertain about your career path? Not sure which direction to take? Take the first step towards a fulfilling future
Job roles offered
Once you procure the required qualifications for becoming a Fashion Designer, a myriad of options are open to you. There are multiple projects you can undertake throughout this line of work, and there are many other fields you can branch out to as well.
Apparel Designers: Apparel designers, also known as clothing designers, contextualise and produce garments pieces. A clothing designer's key objective is to maintain a perspective on emerging or popular fashion accessories and to forecast future ones. An apparel designer is also in charge of creating creative designs, selecting appropriate templates and fabrics for the dress, and overseeing manufacturing. After the project is complete, they must obtain approval from the customer, distributors, or art professionals before moving forward with the proposal.
Fashion Supervisor: A Fashion Supervisor's career in the fashion business entails being in charge of other personnel, usually sales staff and potentially other jobs. Fashion supervisors handle management's demands by inspiring, educating, and potentially educating workers. They can also act as a liaison between administration and marketing, helping each party appreciate the interests of another. The Fashion Supervisor's responsibilities include supervising staff, ensuring high quality of customer support, hiring sales associates, and engaging with sales inquiries.
Design Director: The design director position is for senior executives who have a track record of good collaboration, creativity, and greater error prevention mechanisms. Design directors make certain that all goods and experiences are shipped on schedule, under cost, and to the best performance expectations. A product director oversees the overall development process and critical technical assessments, in addition to expressing a corporation's creative sensibility to design staff and shareholders. A design director can also be responsible for overseeing schedules, monitoring deadlines, and retaining client partnerships.
Professional Pattern Makers:Professional pattern makers hire skilled pattern makers who collaborate closely with design teams. Template makers may be expected to perform the design from the first pattern into manufacturing, based on the employment contract. Any of the skills searched after by the industry include familiarity of design parameters, the ability to perform repairs, handle fixtures, and experience in Photoshop and Illustrator. A pattern building profession usually entails deep involvement in the fashion business. They can work to develop and build designs for one-of-a-kind garments for mass manufacturing, or they may collaborate together through manufacturers to create personalised patterns.
Image Consultants: Image consultants assist their customers in maximising their individual taste and brand. They describe in depth the color schemes that would complement the individual's unique appearance in respect to hair, eyes, facial structure, and skin texture. They also have programs such as fashion preparation, personalized purchasing, and tips for cosmetics. The vast majority of image consultants work for private companies. Companies generally seek the services of an image strategist because they understand the significance of their professional identity at a critical juncture of their lives. This may be linked to a job, personal affairs, or a once-in-a-lifetime event, such as a wedding.
Career opportunities
Fashion Designers can opt for various fields of work in the companies listed below:
AND Fashion
Swarovski
Adidas
Allen Solly
Raymond Ltd.
Everblue Apparel Ltd.
Reliance Industries
Amazon
Aditya Birla Group
Van Heusen
Levi Strauss & Co
Tommy Hilfiger
Colleges offering courses
Army Institute of Fashion and Design, Bangalore
Symbiosis Institute of Design, Pune
Vogue Institute of Art and Design, Bangalore
National Institute of Design, Ahmedabad
Amity Institute of Fashion Technology, Noida
Pearl Academy, Delhi
National Institute of Fashion Technology, Mumbai
International Institute of Fashion Design, Pune
Malaviya National Institute of Technology, Jaipur
Lovely Professional University, Jalandhar
Mount Carmel College Autonomous, Bangalore
Conclusion
Journey to become a fashion designer is an exciting and creative endeavor that demands a diverse skill set and unwavering passion. By acquiring the necessary skills, pursuing education, and gaining hands-on experience, aspiring designers can navigate the competitive world of fashion