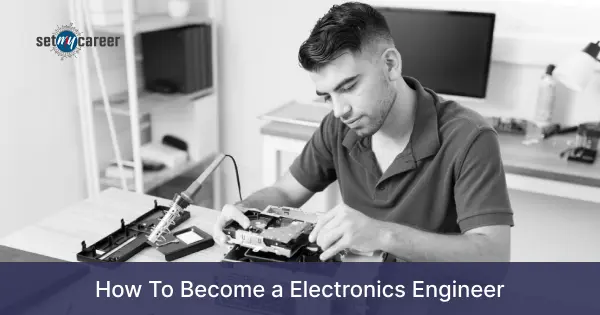 An Electronics Engineer is someone who designs and develops new electrical equipment, solves problems and tests equipment. They work with all kinds of electronic devices, from the smallest pocket devices to large supercomputers. Electronics engineers are responsible for implementing electrical components into any number of devices that use electricity. They help to design and manufacture electrical products of all shapes and sizes, making it a career constantly on the cutting edge.
Due to the job's complexities, electronics engineers frequently work with computers; many of these professionals also work in team settings. While there is overlap with electrical areas, electrical engineers generally focus on supply and generation of power. Electronics Engineers start out a project by defining what new electronics should be able to do. They will then design the circuits and parts of the electronics using a computer. They will create a prototype and test the product to improve it. Most products do not work initially or have some bugs that need to be fixed. The electronics engineers need to figure out the problem and make the product work.
Learn About - How To Become A Manufacturing Engineer
Eligibility Criteria
Must possess at least 50% aggregate from a recognized institution in 12th, from any board PUC/CBSE/ICSE/ISC, etc. However, the cut-off margin varies with the selection process of different colleges.
Should procure a valid score in entrance exams such as JEE-MAINS/CET/VITEEE/JEE-Advanced, etc. Different colleges offer their own entrance exams if you don't have a satisfactory score in JEE or other competitive exams – colleges like NMIMS, Symbiosis International University, XUB, Andhra University, LPU, etc. Every state offers their own entrance exam as well.
One must earn a degree in B.Sc/B.Tech or a Diploma to become an Electronics Engineer. This is a basic qualification you must require to enroll in this line of work.
An M.Tech in Electronics Engineering can also prove to be helpful while looking for a higher degree and better learning.
Tasks to perform
Apprehension of Physics — Awareness and interpretation of physical concepts, laws, their cross relationships, and applications for understanding liquid, substance, and tropospheric mechanics, and structural, electronic, atomic, and micro functions and procedures.
Science and Innovation — Creation of realistic and analytical development of science & technology. This involves the application of principles, methods, processes and machinery to the fabrication and manufacturing of different products and services.
Authority and Establishment — Understanding and interpreting methods the market and management concepts used in strategic planning, capital distribution, human capital modelling, technical leadership, manufacturing processes, and human and resource co - operation.
Craftsmanship — Implementation of the design concepts, methods and concepts used in the development of advanced materials plans, schematics, diagrams and designs.
English Grammar — Familiarity in English Grammar of the form and substance of the English language, along with the context and pronunciation of words, principles of grammar and language.
Knowledge required
Problem Detection — Determining the presence of a problem or the likely event of having one.
Steady Movement — Possessing dexterity in moving hands and arms without any shaky movements while keeping them in position.
Selective Attentiveness — Focusing on key tasks that require utmost priority over a period of time without being liable to interruptions or distractions.
Visual Recognition — Determining the image or the presentation of a device after being moved or rearranged.
Verbal Competence — Addressing ideas and notions with precision and clarity.
Critical Analysis — Learning and identifying the strengths and weaknesses along with providing solutions and counter-measures to reduce the impact of potential problems.
Skills required
Rational interpretation — Use of rationality and inference to distinguish the positives and disadvantages of creative improvements, assumptions, or responses to situations.
Strategic Thinking — Evaluating the possible expenses and advantages of various decisions in order to recognise the best one.
Effective Involvement — Necessitates paying complete focus to what others are suggesting, using the time to consider the arguments being made, responding to questions as needed, and not disrupting at inconvenient moments.
Processes Assessment — Entails identifying metrics or indices of service quality as well as the steps required to enhance or change effectiveness in relation to the system's objectives.
Critical Analysis — Learning and identifying the strengths and weaknesses along with providing solutions and countermeasures to reduce the impact of potential problems.
Is This Career Right For You?
---
Are you feeling uncertain about your career path? Not sure which direction to take? Take the first step towards a fulfilling future
Job roles offered
Once you procure the required qualifications for becoming an Electronics Engineer, a myriad of options are open to you. There are multiple projects you can undertake throughout this line or work, and there are many other fields you can branch out to.
Mechanical Device Engineer: Mechanical device designers are interested in the mechanical components of mechanics and how they may be used in a wide range of industrial sectors. Mechanical engineering concepts are used in almost every field of engineering to a certain degree. In addition to designing mechanical systems for common use, mechanical device engineers have experience in manufacturing, alternative energy, noise reduction, and biotechnology. They also provide tools for other engineers and have lately entered the field of environmental protection, where they are working to build equipment and processes that produce fewer contaminants, as well as innovative technologies that decrease or eliminate those that already exist.
Semiconductor Engineers: Semiconductor engineers create electrical devices that allow employees, resources, equipment, energies, and communication to all operate together. They mainly work with silicone, which is a key component of semiconductors, and they place a strong focus on synchronizing and cleaning. These experts utilize a procedure called water etching to build a conductivity route on a semiconductor material to make up semiconductors in various devices. Because many semiconductor employees work in the manufacturing business, they are situated in production plants, where they operate in extremely clean surroundings to prevent water contamination. While semiconductor engineers are willing to take responsibility for all aspects of semiconducting development and planning, wafer binding and cleaning are frequently prioritized.
System Technicians: Systems technicians work for a variety of companies. They help and support structured users with technological issues. Their employment includes maintaining and repairing the computer system of their employer. They set up numerous programs. They collaborate with their corporation's professionals, computer programmers, developers, consumers, and other employees. They may also be called upon to help external users. They should be competent to diagnose and resolve system problems. To fix difficulties, they use computer diagnostics. They must ensure that the corporation's computing system is protected against malware, a firewall, and viruses. System technicians may be called upon to adapt commercial applications to meet internal requirements. System technicians are frequently required by employers to have a bachelor's degree in communications technologies, computer science, or cybersecurity Egineering. Some firms, on the other hand, may accept individuals with considerable years of employment in place of a bachelor's degree.

Learn About - How To Become A Cybersecurity Analyst

Power Systems Engineer: Power Systems Engineers play a key role in dealing with electrical systems, with functions starting from performing power system experiments to evaluating wind turbine parts. Power systems engineers may work for wind farm manufacturers, electrical energy providers, or wind generator stakeholders.
Career opportunities
Electronics Engineers can opt for various fields of work in the companies listed below:
DLF power Limited
Kirloskar
Automobile Industries (Hyundai, Nexa, TATA Motors, Honda Cars, Mahindra & Mahindra, etc.)
Schneider Electric
Shell Oil Company
Larsen & Toubro
Samsung
Vivo
Google
Qualcomm India Private Limited
Cyient
ABB
Colleges offering courses
Amity University, Noida, Delhi
Birla Institute of Technology and Science, Pilani
Indian Institute of Science, Bangalore
Indian Institute of Technology, Kharagpur
Vellore Institute of Technology, Vellore
Indian Institute of Technology, Roorkee
Lovely Professional University, Phagwara
Indian institute of Technology, Kanpur
Maharaja Sayajirao University of Baroda
SRM Institute of Science and Technology, Chennai
College of Engineering, Pune
This content has been made available for informational purposes only. Learners are advised to conduct additional research to ensure that courses and other College pursued meet their personal, professional, and financial goals. none of the companies, institutions or organisations mentioned in this article are associated with SetMyCareer.