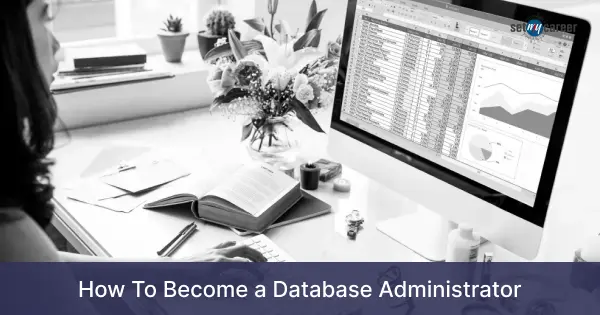 A Database Administrator is someone who uses software to store and organize data, such as financial information and customer shipping records. They make sure that data is available to users and is secure from unauthorized access. Database administrators work in many different types of industries, including computer systems design and related services firms, insurance companies, banks, and hospitals. Database Administrators often plan security measures, making sure that data is secure from unauthorized access.
Many databases contain personal or financial information, making security important. Database administrators are responsible for backing up systems in case of a power outage or other disaster. They also ensure the integrity of the database, guaranteeing that the data stored in it comes from reliable sources. DBAs must be able to monitor a database system's performance to determine when action is needed. They must be able to evaluate complex information that comes from a variety of sources.
Learn - How To Become A Database Architect
Eligibility Criteria
Must possess at least 50% aggregate from a recognized institution in 12th, from any board PUC/CBSE/ICSE/ISC, etc. However, the cut-off margin varies with the selection process of different colleges.
Should procure a valid score in entrance exams such as JEE-Main, KIITEE, SRMJEE, CEE, HITSEE, CET, etc., Different colleges offer their own entrance exams if you don't have a satisfactory score in JEE or other competitive exams – colleges like NMIMS, Symbiosis International University, XUB, Andhra University, LPU, etc. Every state offers their own entrance exam as well.
One must earn a degree in B.Sc/B.Tech or a Diploma to become a Database Administrator. This is a basic qualification you must require to enroll in this line of work.
An M.Tech in Computer Science Engineering can also prove to be helpful while looking for a higher degree and better learning.
Knowledge required
Development and Manufacturing — Utilizing natural resources, process innovations, quality management, prices, and other strategies for optimizing the productive produce and delivery of products.
Advertising and Distribution — Entails understanding the values and strategies for displaying, advertising, and distributing goods or services. Marketing strategies and strategies, merchandise presentation, distribution procedures, and sales management processes are all part of this.
Administration and Conduct — Knowledge of the market and management concepts used in strategic planning, capital distribution, human resource modelling, technical leadership, manufacturing processes, personnel and asset implementation.
Client and Legitimate Service — Implementation of standards and procedures for the provision of customer and services rendered. This involves identifying customer expectations, meeting product quality requirements and assessing customer loyalty.
Incorporation and Governance – Utilizing concepts of business administration associated with tactical planning, distribution of capital, optimization of human resources, leadership strategies, methods of production, and organization of resources and manpower.
Skills required
Processes Assessment — Entails identifying metrics or indices of service quality as well as the steps required to enhance or change effectiveness in relation to the system's objectives.
Time Management — Interacting and switching between different tasks and activities without consuming excess time to provide results.
Effective Involvement — Necessitates paying complete focus to what others are suggesting, using the time to consider the arguments being made, responding to questions as needed, and not disrupting at inconvenient moments.
Rational interpretation — Use of rationality and inference to distinguish the positives and disadvantages of creative improvements, assumptions, or responses to situations.
Method of Learning — Practises and processes for selecting and implementing strength and conditioning approaches and techniques that are suitable for the case when learning or introducing new items.
Is This Career Right For You?
---
Are you feeling uncertain about your career path? Not sure which direction to take? Take the first step towards a fulfilling future
Job roles offered
Once you procure the required qualifications for becoming a Database Administrator, a myriad of options are open to you. There are multiple projects you can undertake throughout this line or work, and there are many other fields you can branch out to.
Data Centre Manager: You'll be in control of a team that manages enormous volumes of computer data via computers and communication equipment as a data center administrator. Datacenter managers have the responsibility of teams of workers who operate in facilities with a lot of computer gear, such as servers and networking equipment. Datacenter managers have the responsibility of maintenance operations and inventories, as well as customer support and personnel administration, and may be required to undergo training in a variety of fields. A bachelor's degree in computer science or a related subject, as well as administrative experience, is required of prospective data center managers.
Information Architect: To make the information shown clear and simpler to use, planning is a continuous process to develop and develop the layout, mapping, and user interfaces for online, desktop, and mobile apps. Information architects create, interpret, and execute technological architecture for businesses using analytical thinking and creativity. They plan how people interact with websites and apps. Information architects are generally part of a team that includes strategists, investigators, and programmers. For their extremely technological abilities, Information Architects are a growing market. Information Architects are responsible for a variety of responsibilities when it comes to planning and constructing the architecture of systems and technologies. These fundamental Information Architect roles and responsibilities were discovered through a review of various job postings.
Database Manager: Database Managers are in charge of an organization's data management and information system. Database Administrators are another name for them. By adopting security measures, database managers assure the safety of stored data. They also create catastrophe restoration strategies, update computers as necessary, implement and evaluate the latest software, and perform backups to secure the information. Database managers also analyze the company's data storage and access requirements and design systems to satisfy those requirements. Database managers work in almost every sector that uses computerized storage technologies.
Chief Technology Officer (CTO): The administrator in the responsibility of an institution's technical demands as well as research and development is known as the chief technology officer (CTO) (R&D). This person, often referred to as a senior technological officer, evaluates a company's short- and long-term needs and uses the money to make expenditures that will assist the business to achieve its goals. The chief technology officer (CTO) generally reports directly to the industry's senior administrative officers (CIO), although the CTO may also answer to the industry's senior administrative (CEO).
Security Systems Administer: A security systems administrator is a professional that provides organizations with professional advice on domestic security processes and might very well also assist in detecting any flaws in an industry's network connection that might leave it susceptible to cyber assaults. Security systems administrators are an industry's initial line of defense when it comes to detecting questionable behavior, whether on the regional neighborhood computer or the internet. Security systems administrators are responsible for the day-to-day administration of surveillance networks and can perform tasks such as network monitoring and archiving, as well as creating, deleting, and improving management user accounts and designing corporate security policies.
Career opportunities
Database Administrator can opt for various fields of work in the companies listed below:
Arrow Electronics
Accenture
VMware
Protegrity
Luxoft
Mouser Electronics
IHS Markit
Cerner Corporation
Fidelity Investments
IBM
Colleges offering courses
IIT Bombay - Indian Institute of Technology
MIT Manipal - Manipal Institute of Technology
COEP Pune - College of Engineering
SRM University Chennai - SRM Institute of Science and Technology
DSCE Bangalore - Dayananda Sagar College of Engineering
VIT Vellore - Vellore Institute of Technology
RVCE Bangalore - RV College of Engineering
PSG Tech Coimbatore - PSG College of Technology
IIT Madras - Indian Institute of Technology
LPU Jalandhar - Lovely Professional University